Perfect as an appetizer, snack, or a full meal when put together!
I am excited to share these delicious Buffalo Ranch Wings n Caesar Salad Recipes that are not only low fat, raw and vegan but also incredibly tender and juicy due to my super secret texture technique!
I've experimented with many variations on this recipe and this is my all-time favorite, my entire family loves it and in fact, I've never served it to ANYONE that didn't love it!
This epic juicy wings recipe uses two out of three of my favorite texture techniques, if you want to bring your raw chef skills to the next level check out my entire post that goes specifically into my Top Tips to make Raw Veggies Taste Cooked!
Let's get to the recipe!
Buffalo Ranch Wings n Caesar Salad
Serves (1 banana commander or 2-3 normal humans)
The night before you want to make the wings start with..
1 Cauliflower (1 lb 460 g)
1. Chop up your cauliflower into pieces that are about the size of one or two bites.
2. Arrange the pieces on a cookie sheet and place them in the freezer.  Freeze overnight.
Plan to start the sauce at 10am if you wish to eat the wings at 6pm 
Buffalo Ranch sauce
2 zucchini (.5 lb / 230 g)
2 Roma tomato (.5 lb / 230 g)
Juice from 1/2 lemon (.25 lb / 150 g – 1/8 cup)
1/13 cup buffalo spice mix ( 1 tsp cumin, 1 tsp chili powder, 1 tsp paprika, 1 tsp ground mustard, cayenne to taste)
1/8 cup pumpkin seeds (.037 lb / 17 g)
1/3 cup sun-dried tomato (.044 / 20 g)
2  medjule dates (.11 lb / 50 g)
tbsp dill (3.1 g)
1/2 tbsp parsley (1.9 g)
green onions 2 (.06 lb / 27 g)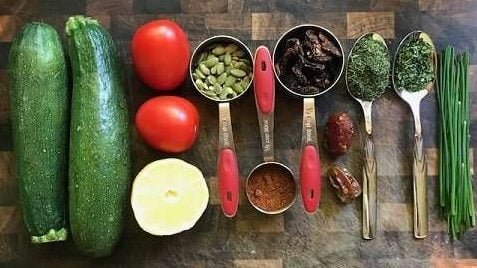 1. Peel the zucchini, discard the peels, and then rough chop the zucchini and tomatoes to prep for blending.
2. Place the zucchini, tomatoes, pumpkin seeds, sun-dried tomato, dates (be sure to pit them), and lemon juice in your blender. Blend it up…(I recommend the Vitamix blender, Get yours with FREE shipping Here!)
3. Chop up the green onions then add them to the blender along with the parsley and dill.
4. Remove the frozen cauliflower from the freezer and place it in a bowl, pour the blended sauce over the cauliflower and stir to evenly coat.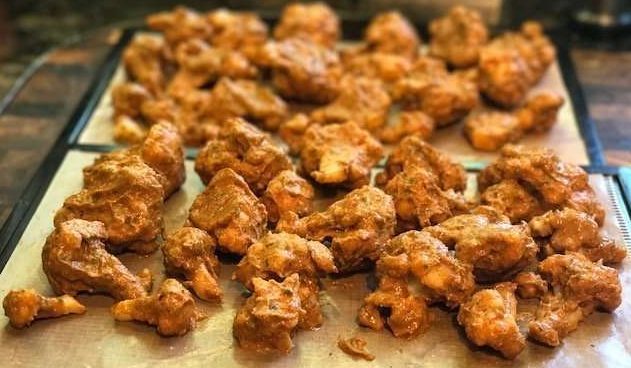 5. Arrange the cauliflower in a single layer on your dehydrator sheet (I highly recommend the Excalibur Dehydrator, get yours with FREE shipping Here) scooping any leftover sauce in the bowl on top of any cauliflower wings that look like they could use a bit more sauce.
6. Set the dehydrator to 130° for the first 30 minutes to more quickly dry out the surface moisture and then decrease the temperature to 118°.
7. Check the cauliflower after about 4-5 hours, flip each piece, and then rotate them as well so that the cauliflower that was at the front is now at the back to help make sure all of the pieces are evenly dehydrated.
8. Let them finish up drying for 1-2 hours while you make your salad and dressing/dip.
Caesar Dressing
Makes 3 cups
Juice of 1.5 lemon (.75 lb / 450 g –  3/8 cup)
1 clove garlic (.01 lb / 6 g)
2 Zucchini (.5 lb / 230 g)
1 yellow tomato (.25 g / 115 g)
1/2 to 1 tbsp dulse flakes
2 medjule dates (.11 lb / 50 g)
1/4 cup hemp hearts (.09 lb / 40 g)
1/2 – 1 tsp mustard seeds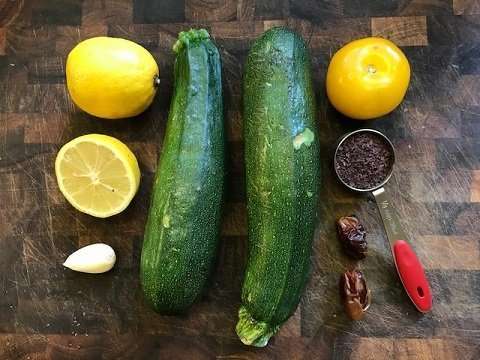 1. Peel the zucchini discarding the peel and then rough chop the zucchini and tomato to prepare to blend.
2. Place the tomato, zucchini, garlic, dates (be sure to pit), hemp hearts, as well as half of the mustard seeds and lemon juice into the blender, and blend until smooth.
3. Taste, then if desired add as much of the remaining mustard seeds and lemon juice to taste, and blend until smooth.
4. Finally, add in the dulse and just lightly blend to mix but not puree.
5.  Finely chop 2 heads of romaine lettuce and use 2/3 of the caesar dressing to top your salad and the remaining 1/3 for dipping your "wings" in!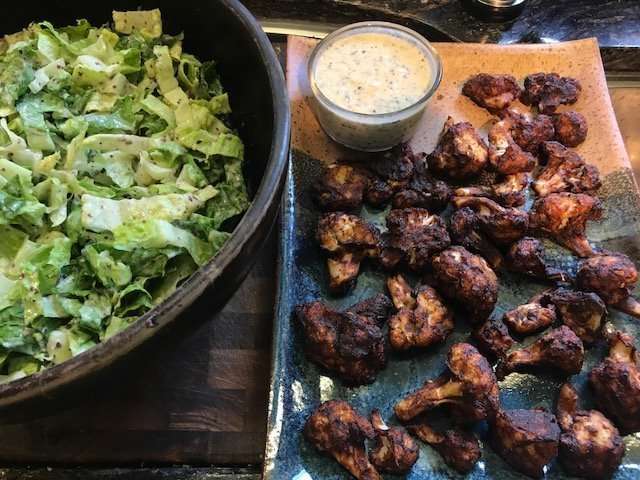 ENJOY!
I really hope you love these Buffalo Ranch Wings n Caesar Salad as much as I do, the potential is limitless for many different types of wings, I hope this version helps spark your creativity!
As Always
Wishing You Much
PeaceLovenSeasonalFruit ck