Iced Mocha, a Simple Raw Food Recipe
I used to love iced cappuccino, iced mocha, iced cap, iced latte, in any flavor, really however you could get it I loved them. I'll admit I didn't even really drink coffee but I loved Iced Capps and Coffee IceCream… Go Figure!
It had been a long time since I had an iced mocha, that is until last weekend when a low-fat raw recipe idea popped into my head…
5 minutes later I had squashed that craving and discovered a raw vegan iced capp recipe that you can eat as a full meal and feel great about!!

This video goes into the basic Iced Mocha Recipe sharing some tips on how to expand from there!!
Hope you love them as much as I do, Have a hot and cool summer! 🙂
Most iced capp's have tons of unhealthy ingredients in them and are very expensive to boot!
From dairy products, that are unhealthy and cruel (check out NotMilk.com for more), to tons of processed sugars and acidic coffee that contains various chemicals, and stimulants and is horrible for the environment…
I admit I loved Iced Capp's but they really didn't love me, the animals or the planet…
It took me a while to really be able to say this, but…
I love myself, I love the animals and all life on the planet, and I choose to eat in a healthy way that reflects all of that love.
I feel so blessed to create and share delicious healthy recipes that can help you glow and grow with and in that same love.
I really hope you enjoy this simple raw food recipe, the description gives many options to try out endless variations!
Iced Mocha Recipe
1 lb dates
2 tbsp raw carob powder
Water to Cover
Ice
1. Start by pitting all of the dates (I love Khadrawy but any semi-soft dates will do) and placing them in your Vitamix Blender.
If you do not have a Vitamix I highly highly recommend one, the best blender around, and can change your whole raw food game, grab your Vitamix here.
If you do not have a Vitamix, or another high-powered blender you will want to pit the dates and soak them in just enough water to cover for 6+ hours (if so then skip the next step to add water).
2. Add just enough water to barely cover the dates in the blender. For a more intense and or authentic flavor, other options include your favorite; Chai Tea, Herbal Tea, Coffee Substitute, Decaf Coffee, or anything else you prefer.
* I prefer to make mine free of coffee or cacao due to the caffeine and theobromine
3. Add your carob powder to make the simple Mocha Recipe!  Other options include; Cinnamon, Mesquite, Vanilla, Cacao, Coffee extract, etc. If you want more of a creamy "latte" experience you can add 1/2 of a banana, 1 cup of coconut milk/nut milk, tahini or your favorite nut or seed.
* I prefer to use a banana and if using fat only use a bit for better digestion.
4. Blend blend blend till smooth as can be.
5. Once fully smooth add an equal portion of Ice (if you have 4 cups of date paste add 4+ cups of ice).
6. Blend blend blend, using the tamper if necessary to fully crush the ice.
If you do not have a Vitamix you may need to cut this recipe in 1/2, make batches or accept that it will not be as smooth as you would like it.
7. Serve in large glasses with a straw, and be prepared to cry with delight!
I really hope you love this Iced Mocha recipe and enjoy trying a bunch of different variations and flavors, I know I am!! 🙂
Be sure to sign up for my newsletter for 2 free ebooks as well as my weekly newsletters that contain a free recipe, my most recent and inspired blog posts, offers you special deals/discounts, offers, tips, tricks, and more!!
If you Loved this recipe and want more be sure to check out my raw recipe books,
such as my simple low fat, well-combined, hygienic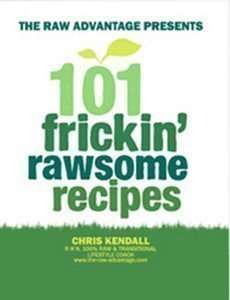 "101 Frickin' Rawsome Recipes"
The more fancy celebration style low fat raw gourmet
and my Upcoming simple hygienic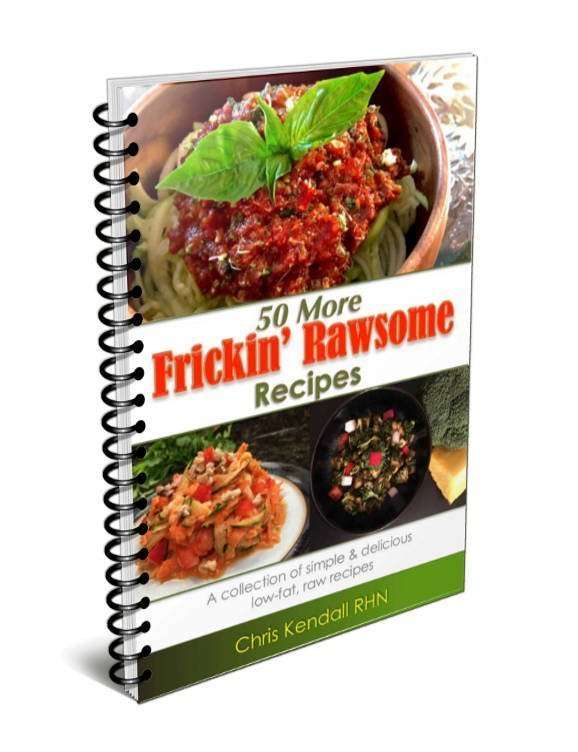 "50 More Frickin' Rawsome Recipes"!
Grab them all here!
As Always
Wishing You Much
PeaceLovenSeasonalFruit ck