Mango Kale Coconut Bliss Curry w/ Liv Unbound!
Its about time for another amazing raw vegan Curry recipe!
I just LOVE LOVE curries and feel pretty darn blessed to come together in Collaboration with Olivia Kissper of "Liv Unbound" and "Olivia Kissper ASMR" (her two amazing Youtube Channels) to bring you this delicious Mango Kale Coconut Bliss Curry!!
Right off the bat I want to share that this recipe video will be made here on The Raw Advantage as well as on Olivia's self developmental channel "Liv Unbound" where we recently made This Video on my Top 3 Tips to Improve your Health!
Be sure to check it out as her version of the recipe video as it will be slightly different and as she said "Way better"…
I have been making a few videos with Olivia for her other highly popular ASMR channel (Olivia Kissper ASMR) as well!

If you are unsure what ASMR is it is typically described as "Autonomous Sensory Meridian Response" (ASMR) is a term used for an experience characterised by a static-like or tingling sensation on the skin that typically begins on the scalp and moves down the back of the neck and upper spine". Her videos are very soft, relaxing and best watched with quality headphones to help bring tingles.
Peep her channel here and check out some of the videos we made (Banana Hair Mask and Avocado Spa Treatment) as well as some of her other videos.
Back to the Recipe!
For this delicious raw vegan curry you will want…
Mango Kale Coconut Bliss Curry
1 lb / 460 g – Kale (any mix)
.2 lb / 90 g –  Mustard Greens or Arugula
.2 lb / 90 g – Spinach
1 -2 Young Coconut's 
1 Mature Coconut
1.5 lb / 690 g – 3 Mangos
1 Big Thumb Ginger
3 Small Finger's Tumeric
.15 lb / 68 g – Green onions
1 mild / medium hot pepper
.5 lb / 230 g – 7 mushrooms
1 lemon
Start by slicing the mushrooms into 1/4 inch slices, place on a dehydrator tray and dry at 115 – 118 for 30 – 60 minutes (grab your Excalibur Dehydrator here with FREE shipping). Thinly slice all of the kale and mustard greens into skinny noodle like strips and place in a bowl. Squeeze the lemon on top of the kale, using a strainer or your hand to avoid getting the seeds inside and masticate / squeeze the kale to help soften it and bring out the savoury flavour, let sit. Thinly slice the spinach and mix with the other greens. Open the young coconut with a machete or a heavy knife, reserve the water and procure the jelly, set aside. Open the mature coconut with a corkscrew in the largest eyelet, drain the water (test to make sure its good) smash the coconut and get the mature coconut meat. Place all of the mature coconut water and 1/2 of the young in your Vitamix Blender (get yours here with FREE shipping) and add all of the mature coconut meat to the blender with it. Blend till smooth adding more young coconut water if needed to create a smooth thick coconut paste. Squeeze through a nut milk bag to get all of the coconut milk. Pour back into the blender and add pepper, turmeric, ginger, garlic, all the mangos and 1/2 of the coconut jelly (the thinnest or thickest bits). Blend at high speed until smooth and creamy adding more coconut jelly if needed. Pour over the greens and mix in. Thinly slice the remaining coconut jelly into noodles (medium thin and soft best, we used 2 total between the sauce and noodles), add to the greens, grab the mushrooms out of the dehydrator and add to the mixture as well, stir till evenly coated. Devour with a smile, so dang good!
I really hope you love this recipe, it is a base for many different dishes I have made and can be used as a sauce on top of any number of different veggies and noodles. If you want more of my all time favourite sauces check out Naturally Ashley and my hit book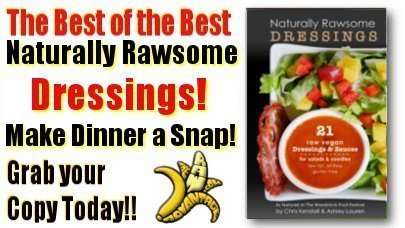 As always wishing you Much 

As Always
Wishing You Much
PeaceLovenSeasonalFruit ck