The Best Raw Vegan Pancake Recipe + Bonus Berry Syrup!
To say this is The Best Raw Vegan Pancake Recipe is a bold claim I know, but I am sticking by it!
Enjoy these fluffy, moist and delicious fat free raw vegan pancakes with a bonus blackberry syrup recipe to take them to the top!
I'll admit I've never really been a big pancake guy.
That doesn't mean I didn't enjoy them when I ate them, or that I never had them, but rather that they weren't common on my menu growing up. That said when I had pancakes I liked them to be light and fluffy with a really tasty syrup on top rather than those dense thin crepe style versions that some people try to pass off as pancakes. To me crepes are crepes (thin "pancakes") and pancakes are well, Pan "cakes" as in thick and fluffy, or what some people call "American pancakes".
But I digress,  I've made near a dozen raw pancake recipes in my time, some using different types of bananas, different thickeners and more. Some are higher in fat containing nut-meal or "raw" flours, others that are more crepe like often use regular cavendish bananas. These simple low fat raw vegan pancakes use none of the above, are simple, well food combined and are the most authentic and tasty that I have made or had, I think its fair to say that they truly take the cake!
To accomplish the thick fluffy texture in this recipe I find its important to use plantains instead of bananas. Plantains are like bananas big brother, they are higher in calories, more dense in nutrition and help create the texture and taste of cooked pancakes.
If you want to learn more about plantains, why they are one of the tastiest and least expensive sweet fruits out there,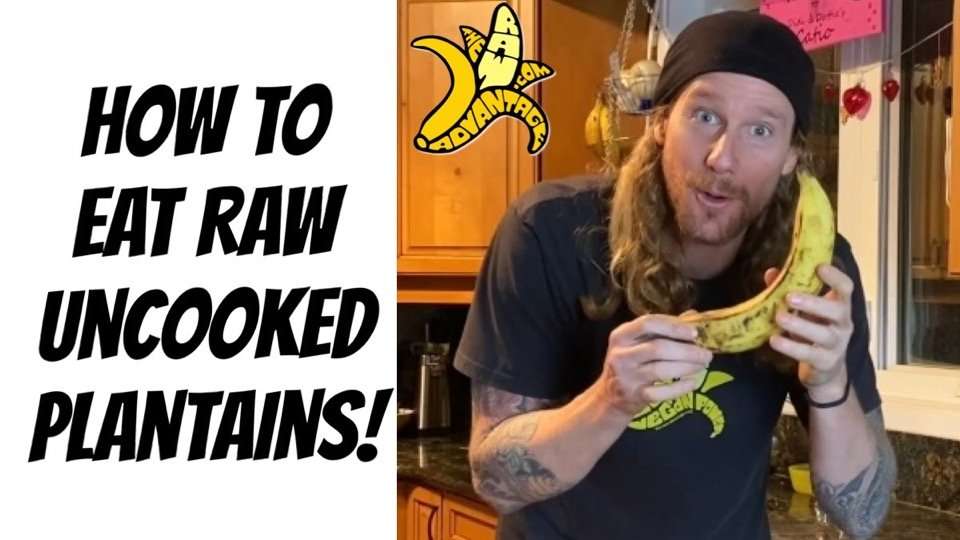 as well as how to ripen them properly, then check out my post all about it here!
If you can not find plantains or simply want to try out another delicious raw pancake recipe that uses bananas check out my friend Happy Raw Reny's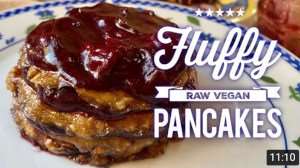 Fluffy Raw Vegan Pancakes Here
Before we get into the ingredients for this recipe its important to note that while the actual working prep time for this recipe is pretty short it takes about 15-18 hours of total dehydration. That means if you want pancakes for lunch you will want to start just after supper around 6 pm for pancakes at noon. That said pancakes make a great meal at any time of the day!
To the Recipe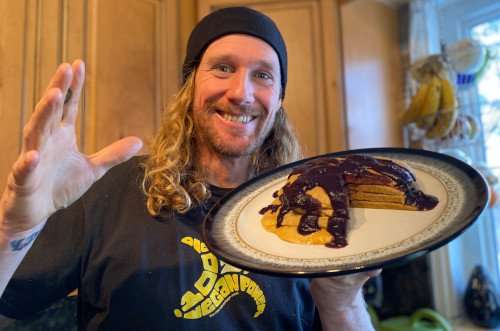 The Best Raw Vegan Pancake Recipe
Makes 4 pancakes or 1 – 2 large servings approx. 1400 calories
(1100 g / 2.4 lb) Ripe Plantains ~ 5
1/4 cup Psyllium Husk
1. Watch the video to learn about plantain ripeness, select five medium sized medium ripe plantains, peel and add to your vitamix blender.
2. Blend until smooth and then add the psyllium husk and blend again until smooth. If using psyllium powder reduce amount in half.
3. Pour / scoop the thick "batter" into two separate piles on two teflex lined Excalibur dehydrator trays, about one full cup batter per pancake on each side of the teflex sheets. Using a large knife or pie scoop carefully form each pile of batter into a 1/2 inch thick pancake shape, you may want to watch the video for this step.
4. Slide the trays into the Excalibur dehydrator, close the door and set at 118°.
5. Twelve to fifteen hours later remove the raw pancakes from the dehydrator, "sandwich" the pancakes between two dehydrator trays with the mesh facing inward on both, carefully flip the trays and then slowly and carefully peel the teflex sheet off of the pancakes, you may want to watch the video for this step.
6. Place back in the dehydrator for 2 – 3 hours or desired texture, serve when warm with syrup!
As promised in the video I am also sharing a delicious simple raw vegan syrup recipe that goes amazingly with pancakes, crepes, nice cream, on top of fresh fruit or even as a dip for celery, cucumbers or any green or fruit.
Blackberry Syrup Recipe
Makes 1 – 2 cups or 1 – 2 servings approx. 350 calories
(340 g / .75 lb) Blackberries
(75 g / .16 lb) Medjool Dates ~ 3
* You can use nearly any berry or fruit, frozen (thaw first) or fresh in place of black berries, higher water content works best. My favourites are blackberries, raspberries and mango!
1. Blend the berries at medium low speed until well broken up but not fully pureed.
2. Pour the blended berries into a nut-milk bag or super fine sieve and squeeze all of the juice into a bowl.
3. Clean the blender and add the juice back to the blender, add 3 pitted medjool dates and blend until smooth.
4. Pour inbetween and or on top of your pancakes, nice cream or whatever you are serving the raw vegan syrup with, enjoy!
* If desired add more dates for a thicker syrup and or add hot water and more dates for a warm syrup or to thin.
---
I really hope you enjoy this tasty and authentic raw vegan pancake recipe, and also feel they are the best raw vegan pancakes out there!
If you do and want more top notch FREE raw recipes…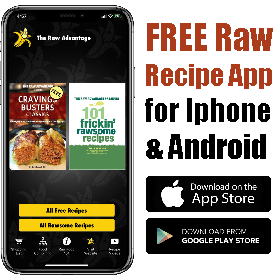 Get over 100 FREE Raw Recipes on my Raw Recipe App!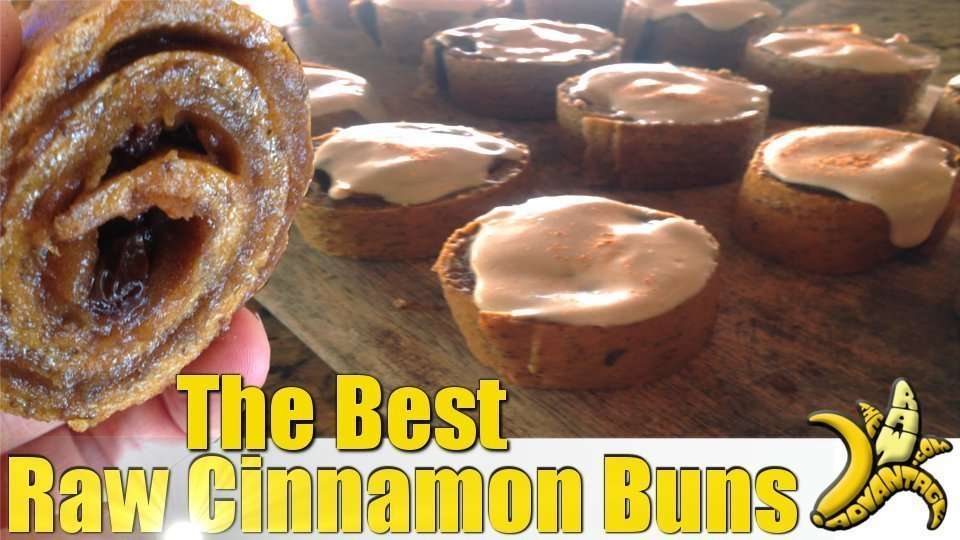 Also be sure to Check out "The Best Raw Vegan Cinnamon Buns Recipe" Here 
PeaceLovenSeasonalFruit ck
As Always
Wishing You Much
PeaceLovenSeasonalFruit ck