Chunky Banana Porridge Recipe
There are few heartier sweet meals than puddings / porridge, this simple and quick to make thick and chunky banana recipe really hits the spot and makes a amazing breakfast or lunch!
One of the biggest reasons that people can have a hard time sticking to a high carb low fat raw vegan diet is not getting enough calories. This is due to fruits and vegetables being the lowest calorie per volume foods we can eat that and at the same time are the highest nutrient per calorie foods we can eat. This leads people to feel more satisfied than on other foods while also getting more volume than they ever had, but commonly getting less calories than they need in the long term.
To help with this higher caloric dense low fat high carb fruit based recipes, such as banana puddings and porridge's, can make it much easier to get enough calories without adding a bunch of fat or cooked foods. This simple raw vegan banana porridge recipe really sticks to your ribs, is quick to make and is loved by kids and adults of all ages.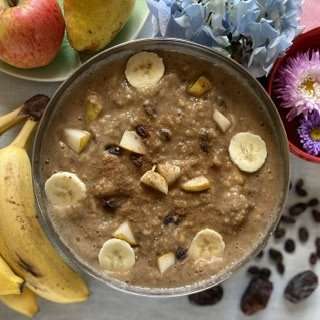 Chunky Banana Porridge
1.5 – 2 lbs Bananas ~ 6 – 8 Bananas
1 lbs Apples ~ 3 Apples
.33 lbs Pears ~ 1 Pear
.5 lbs Dates ~ 6 Dates
.25 lbs Raisins ~ 1/2 cup
Cinnamon to Taste
Optional: 1-2 sticks celery
1. Peel and rough blend all of the bananas except one.
2. Quarter and core the apples, place in the blender and blend / pulse at low speeds using the tamper / celery sticks to a rough blend.
3. Pit the dates and add to the blender along with the raisins (and optional celery) and cinnamon, pulse blend to mix in.
4. Quarter and cube the pear and slice the remaining banana, add to a bowl reserving a little bit of each for garnish.
5. Pour the banana mixture on top of the cubes and slices, stir together and top with remaining pear cubes, banana slices, extra raisins and a sprinkle of cinnamon
Serve with a big spoon n enjoy!
For more delicious raw recipes check out all of my raw recipe books here!

Get over 100 FREE Raw Recipes on my Raw Recipe App available FREE on Apple & Android!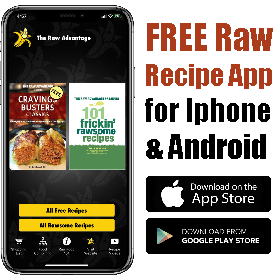 If your ready radically change your life with a truly holistic raw, or high raw vegan lifestyle, to feel better, look better, enjoy more energy, better digestion, higher levels of health and fitness then check out the
"Raw Vegan Lifestyle Success System"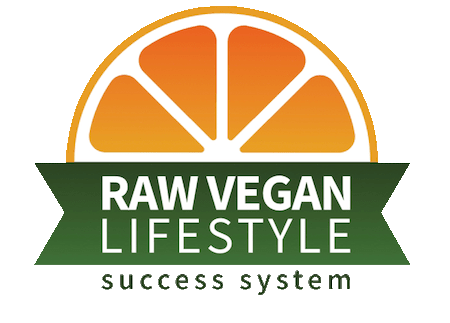 I believe in this system so much that I am offering a full 90 day No Risk Guarantee, check out the link to take advantage of the NO Risk Guarantee
Wishing you much
As Always
Wishing You Much
PeaceLovenSeasonalFruit ck