New "Sugar Daddy" and "Sugar Mama" t-shirts!
Super excited to share some of my newest super high quality organic cotton t-shirt designs with you all!
Inspired from the 1980's neon style designs and from a tongue in cheek fruity play on a common phrase…
The Raw Advantage Brings you "Sugar Daddy" and "Sugar Mama"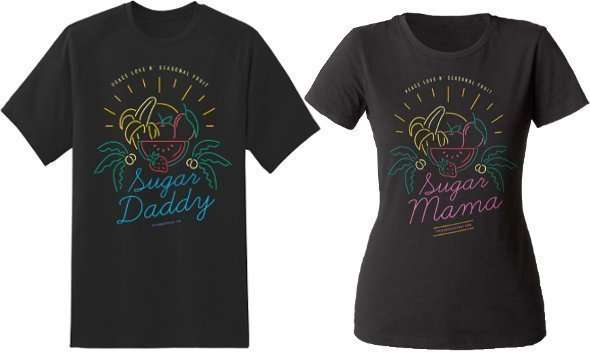 Available in super soft 100% organic cotton, the womens has a scoop neck and the unisex comes with a classic slim fitting design and crew neck.
Peace Love n Seasonal Fruit at the top, a big ol bowl of fruit in the middle and your pick of "Sugar Mama" or "Sugar Daddy" at the bottom!
I will admit, when it comes to sweet loving fruit I am a bonafide Sugar Daddy!
Share the sweet fruity love with style and a smile, I hope you LOVE these new shirts and as always
enjoy with much
As Always
Wishing You Much
PeaceLovenSeasonalFruit ck