Raw Mexican Rice or Couscous and the Woodstock Fruit Festival!
Today I want to share with you a awesome raw recipe from my upcoming recipe book
TRA Retreat Treats
as Well as Perk you up to the Woodstock Fruit Festival!!
Its sure to be an event and experience you won't want to miss.
Hope you Love the Recipe and Video, See you at Woodstock and My Frickin Fruitluck afterwards September 1st in Central Park NYC, Sheeps Meadow!!
Imagine spending 9 days with hundreds of like minded health and diet enthusiasts,
unlimited tropical and local fruits and veggies!
This event WILL change your life forever!
Whether you are a 'seasoned' fruit eater
or just testing the waters
Join me at the Woodstock Fruit Festival you can get $100 off admission with my code"banana".
Don't miss the last chance to sign up with the June admission fee!
Check out new updates on the festival website!
Kids! There are already more than 50 kids signed up for 2012!
Attention Families! You won't want to miss this experience for you and your children!
New convenient BUS SERVICE options from NYC and Albany.
Also don't miss our new "Le Fruit" Restaurant, fine dining each evening! Ooh la la!
More than 1100 people have signed up on the festival website in the last year!
Many hundreds are already paid up and waiting for you to join them in August.
SIGN UP TODAY! Weeeee!!!! Hope you Come!!
Enjoy this Recipe!!!
Raw Mexican "Rice" / "Couscous"
1 Head Cauliflower
2 tomatoes
1 mango
2 mushrooms
4 radishes
1 bunch cilantro
1 lime
Optional:
Corn , Red peppers, Carrots..
1- 2 Green Onions
1 Jalapeno
Cumin / Chili Powder
Pulse Cauliflower and Radish in small batches using the VitaMix a grater or your food Processor to make fine "rice". Slice and dice the outer sides of the tomatoes and Dice the mushrooms throwing over top of "rice", place juicy tomato centres in the blender with The hot Pepper, Bulbs of green onion and the mango. Blend well. Add the Green onion tops and cilantro, Pulse to a fine chop. Pour over the "rice mixture" and either Stir in or serve as is!! If desired add 1 diced avocado, Whalla!!
P.S Fresh Corn, Cherry Tomatoes, Red Peppers and Salsa can really go great with this dish!!
I love to serve this in Lettuce or Cabbage leaves with Sprouts, chopped Spinach, Arugula and Avocado/ guacamole and or salsa!
Raw Mexican Rice Burritos!!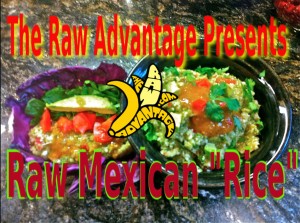 P.S!! If you wish some simple Raw Recipes that are Hygienic, easy to make 1 – 5 ingredients without any salt onions garlic or oils check out my "101 Frickin Rawsome Recipes" available as a Ebook By Donation or as a paper Book shipping anywhere in the world!
As Always
Wishing You Much
PeaceLovenSeasonalFruit ck