101 Frickin' Rawsome Recipes ebook up by Donation :)
I have finished my first recipe book!! 🙂
Its called "101 Frickin' Rawsome Recipes"
To Celebrate my ebook launch (was actually Dec 2009) I just finished my 2nd video blog.
Enjoy some of my newest skate footage, a few facts on raw fruits and veggies, and a demo of 2 recipes from my ebook 🙂
On to the video!!!
<
All the best to you all over every christmas season 🙂
P.S Enjoy The Recipes!!
Pomegranate Kiwi Punch
1 small pineapple (1 lb / 460 g)
3 mandarins (.75 lb / 345 g)
3 kiwis (.5 lb / 230 g)
2 pomegranates (.65 lb /300 g)
Dice 1?2 the pineapple, 2 kiwi's and de-seed the pomegranate, place all in a bowl. Blend remaining 1?2 pineapple 3 mandarins and 1 kiwi, pour over fruit pieces and enjoy this sweet and crunchy treat! (500 Calories)
Ohhhh One of My Favorites!!!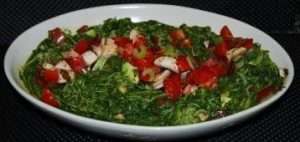 Presto Sun Dried Tomato Pesto
3 – 4 medium zucchini (1 lb / 460 g)
3 – 4 roma tomatoes (1 lb / 460 g)
sun dried tomatoes (presoaked) ( 1?2 cup / 120 g) 
hulled hemp hearts (2 – 4 Tbsp / 30 – 60 g)
large handfuls of basil, arugula & spinach 
Spiralize or shred zucchini into thin noodles, dice 1?4 to 1?2 the tomatoes, 1/3 – 1?2 sun dried tomatoes and toss with noodles, blend remaining tomato and slowly add all the greens sun dried tomatoes and nuts blending just enough at slow speed for thicker chunkier pesto, or at faster speeds for smooth sauce. I prefer slower speeds leaving it chunky, you may need to take some time and use a few stalks of celery or the tamper to get thick sauce thick and chunky, dice remaining celery and add to noodles. One of my all time favorites!! (400 – 550 cal.) 
For More Simple Well Combined and Delicious Raw Recipes
Peep out my Best Selling Ebook
"101 Frickin' Rawsome Recipes"
Available by donation as a Ebook or for 10$ plus S+H as a Paper Copy!
p.s 1/2 of all donations go to  designed to create fully by donation Healing/Learning/Retreat centres across the globe
As Always
Wishing You Much
PeaceLovenSeasonalFruit ck