Simple Mango Noodle Salad Food Demo + Raw Vegan Basics Mastery With Yelina Perez
Going into Yelina's vegan journey and her new course "Raw Vegan Basics Mastery" while we both made "Simple Mango Noodle Salad" from my "21 Day Spring Meal Plan" *Full Recipe Below
The Raw Vegan Basics Mastery Course will help you dive into the basics of the Raw Vegan Diet and how to master them so it fits right into your lifestyle!
Includes behind-the-scenes video training of how Yeli uses each strategy
Meal prepping strategy to optimize your daily eating habits with flavorful and fun meals
Mastering smoothies and salads so you never get bored and it doesn't feel repetitive
I am Sorry to Say that the Ultimate Raw Vegan Bundle Special is Over, you can however get target="_blank" rel="noopener">Yelinas Mini-Course Here.
Be sure to Subscribe Here to be notified first when new bundles, giveaways, special events, and deals are offered!
Check out her website 
To the Recipe!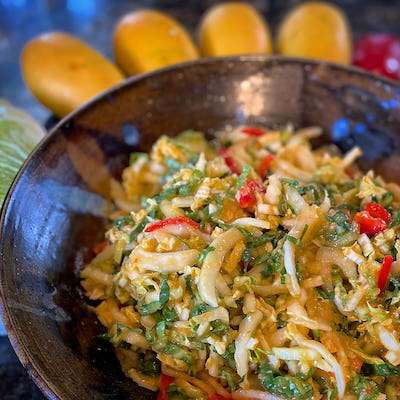 Simple Mango Noodle Salad
Napa Cabbage (.75 lb / 345 g)
Bok Choy (.5 lb / 230 g)
3 Mangos (1.5 lb / 690 g)
Red Pepper (.16 lb / 75 g)
1 Lime (2 tbsp juice)
Finely cut all of the napa cabbage, bok choy, and red pepper into thin noodle-like strips and add to a bowl, reserve the very bottom stem ends of the napa cabbage and bok choy for the sauce. Peel /cut and scoop all of the mangoes into your Vitamix, add the bottoms of the napa cabbage and bok choy, squeeze 1/2 of the juice of the lime into the blender, and blend till smooth. Add the remaining lime if desired to your preferred taste. Pour over the "noodles" and enjoy this sweet and salty treat! ???
Hope you really enjoy the recipe and check out Yelinas Raw Vegan Basics Mastery Mini-Course!
As Always
Wishing You Much
PeaceLovenSeasonalFruit ck