The Raw Fooders Winter Survival Guide
Having a hard time surviving the winter on a raw food diet?!
Looking to start a raw lifestyle but don't know how to thrive no matter where you live?
Ted Carr and I have got your Back!
Learning the ropes of a new diet or lifestyle can really take some time and require one to grit their teeth to push through some hard spots. While the raw food lifestyle has many advantages and can become a breeze in so many ways, for many people thriving and enjoying the raw lifestyle in winter is the hardest. Thinking of you, my good friend Ted Carr (of Fruit Living) and I got together to help you in that tough dreary cold time of the year providing the most effective tips, easy to apply tricks and techniques that we have learnt over our 25 combined years as raw foodists.
With that we are happy to present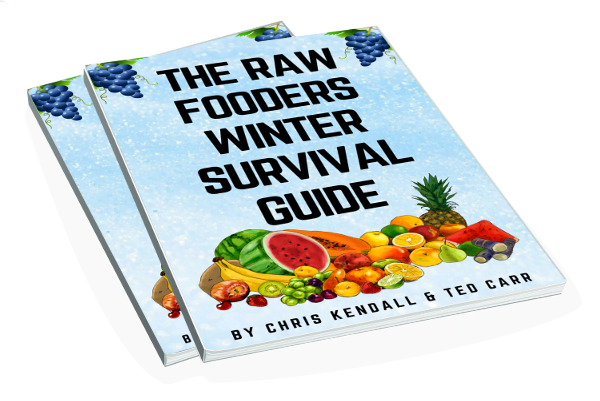 It really doesn't matter if you live in the tropics or in a northern country (like Ted and I Often do), these tricks, tips and helpful techniques can help you to learn to thrive on a all raw, or high raw lifestyle, even in the middle of winter. Ted and I have dug deep into our own personal experience, as well as the experience of other long term raw foodists, to bring you the most solid, simple, straight forward path to finding ease with the raw food lifestyle no matter if its freezing outside.
Did you know it takes the average person 5-7 years to apply the raw food lifestyle in such a way that it becomes habit, that its really second nature and not a thought!?
This Winter Survival Guide can really help fast track you on your health journey providing many of the simplest and yet profound tricks tips and answers to common troubles and setbacks that raw foodists face.
While food is a large aspect of raw food success, and what is presented, this powerful ebook dives past that into various aspects of lifestyle, taking into account our thought patterns, exercise routines, strategies and much more. Many of these tips are easy to apply right now while others are a practice, something to cultivate and grow with.
Both of us have had our fair share of ups and downs on our personal raw food journey's and really want to help you to learn to make yours as easy, fun and delicious as possible.
I can honestly say that I find living the raw food lifestyle as easy in the winter months as I do in the summer months, and with this ebook, some time and focus, I know you can come to that same ease too!
To continued growth and consistence in self love practices, relationships, perspectives and play <3
PS – While this book covers many bases in terms of creating a healthy raw food lifestyle its not a entire "raw diet" guide" and important to note that individuality (current situation, lifestyle, past lifestyle, genetics etc)  comes into play. With that, to serve everyone where they are at I am always available for consultation in various formats, by donation or as a coaching package. Learn more about my consulting services Here 
As Always
Wishing You Much
PeaceLovenSeasonalFruit ck