Chocolate Cream Pies with Debbie Adler – Raw & Vegan
Enjoy this simple raw vegan Chocolate Cream Pies recipe food demo that I did with Debbie Adler from her newest ebook!
We had such fun creating these amazing Chocolate Cream Pies live, I hope you enjoy the conversation, tomfoolery and try them out yourself!
To the Recipe!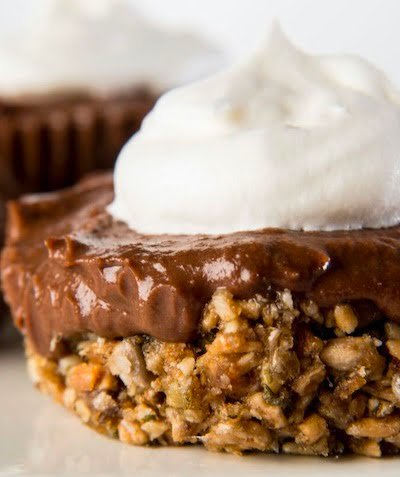 Makes 12 pies
Ingredients:
Crust:
3/4 cup sunflower seeds (3.5 oz/99.7 g)
1/4 cup pumpkin seeds,(1 oz/30 g)
2 tablespoons hemp seeds (.7 oz/20 g)
6 Medjool dates, pitted and soaked in water for 20 minutes (.33 lbs/150 g)
Filling:
3/4 cup room temperature green tea, or water (9 oz/255 g)
10 Medjool dates, pitted and soaked in water for 20 minutes (.49 lbs/220 g) 1/4 cup raw cacao powder (.88 oz/25 g)
1/4 cup raw almond butter (2.1 oz/60 g)
1/4 cup mashed avocado (1.3 oz/37.5 g)
Toppings:
1 cup raw cashews, soaked for 1 hour (.3 lbs/140 g)
3 Medjool dates, pitted and soaked for 20 minutes (2.65 oz/75 g)
Instructions:
Line a standard 12-cup muffin tin with paper baking cups.
To make the crust; add the sunflower seeds, pumpkin seeds, hemp seeds and dates to a food processor. Pulse until combined but not smooth. There should be lots of texture in the mixture.
Add about 11?2 tablespoons of the crust mixture to each tin and press down to make an even layer. You don't need to go up the sides.
To make the filling; add the green tea, dates, cacao powder, almond butter and avocado to a high-speed blender. Process until the mixture becomes very smooth.
Spoon about 3 tablespoons of the filling into the prepared cupcake wells, dividing it evenly among the twelve tins.
To make the topping; Add the cashews and dates to a high-speed blender and blend until smooth. Stop every so often to scrape down the sides.
Place the tins in the freezer for two hours or overnight. Peel the cupcake liner off and top each pie with the topping. Serve immediately.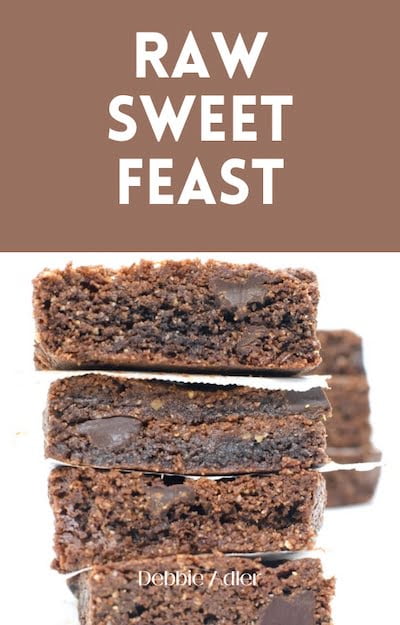 Debbie's new book "Raw Sweet Feast" will help you learn how to make nourishing & indulgent raw treats for a delicious & healthy life!
Enjoy Low-fat Recipe Options
Quick & easy-to-make
Colorful photos for every recipe
Thanks so much Debbie for letting me share your Chocolate Cream Pies recipe, and for being a part n and enjoying with me today!
Be sure to follow Debbie on Instagram @plant.based.debbie.adler
I am sorry to say that the Ultimate Raw Vegan Bundle promo period is over for this year, 

stay tuned and be sure to sign up to my mailing list here to be notified first when the all-new bundle comes back!
As Always
Wishing You Much
PeaceLovenSeasonalFruit ck