Bolognese – The Best Raw Vegan Bolognese Recipe!
Does the thought of a thick, hearty, and chunky bolognese get you excited?!
It's one of my all-time favorite meals, now you can enjoy it too with this simple yet authentic raw vegan bolognese recipe!
I really hope you Love this Raw Vegan Bolognese Recipe as much as I do, ingredients and instructions are below 🙂
When I was younger I was a noodle junky, no word of a lie I would eat noodles at any meal I could. By the time I moved away from home one of my most common meals was Sapporo Ichiban also known by the brand Mr noodle, in part because I loved them but also because they were really expensive and fairly filling. I remember buying jars of chunky bolognese ragu when I felt like treating myself, ahah oh the memories.
When I first went raw vegan I thought that noodles were a thing of the past and instead focused on smoothies and salads. It wasn't until I was raw vegan for about 4 years that I learned that you can make noodles out of veggies, and then longer to really dive in and discover what veggies and raw vegan noodle makers make the best raw noodles. I will admit for a time I went noodle crazy again and created many delicious recipes such as this raw vegan bolognese recipe which became a staple for many months in a row.
Some of my all-time favorite raw vegan noodles are made with zucchini, aka zoodles, such as in this recipe, but cucumbers, aka coodles, are amazing as well. Other honorable mentions include carrots, daikon radishes, beets, and thinly sliced cabbage, all of which are extra amazing when noodled, frozen, and then thawed before serving for a softer texture. Check out this post entirely on my Top 3 Tips to make Raw Veggies Taste Cooked to learn more. I also really like to simply slice nappa cabbage, iceberg lettuce, dino kale, or romaine lettuce thin into noodles for the fastest "bed" of noodles around. You can see I am a noodle-ahololic!
Before we get into the recipe I would like to share my three favorite noodle makers for different types of dishes and uses. 
My all-time favorite raw vegan noodle maker is the Joyce Chen Spiralizer, it makes the most delicate angel hair pasta-type noodles and works best with zucchini, carrots, and other hardier veggies. I find these noodles work well with any kind of sauce but most often I use them for fat-free sauces, such as my favorite fat-free sauce here, that don't stick to the noodles as well, or in soups.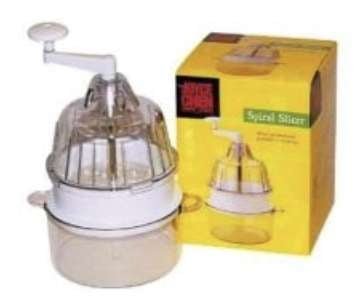 2. My second favorite raw vegan noodle maker is the Titan Julienne Peeler, as a bonus, the pack below comes with a Titan Peeler as well, both are the best I have used. This handy notched peeler makes easy work of creating linguini-type noodles out of almost any vegetable, or fruit, such as green papaya or even bananas, and is very lightweight sturdy, and great for travel. This is one kitchen tool I often travel with to quickly make a fancier meal on the go with whatever ingredients I have on hand. I find these noodles are best for thicker creamier sauces that stick to the noodles well such as my Raw Vegan Pad Thai or the sauce from my Raw Vegan Curry.
3. Last but not least is the classic 5 Blade Vegetable Spiralizer that offers various noodle sizes and shapes and admittedly is easiest for making larger volumes of raw vegan noodles. You may ask why this noodler is in last place if it offers the most variety and is the easiest to make raw noodles in larger volumes, quite simply its because the noodles are thicker and I find they don't hold as much sauce as the other two devices, beyond this it is by far the biggest and requires the counter space and the most clean up. I very truthfully Love all three raw noodle makers and use each for different dishes or in different scenarios.
Back to the Raw Vegan Bolognese Recipe aka Faux Bolognese!
When I think of Bolognese I think of a really hearty, savory filling chunky tomato sauce drenched over noodles, and that's what you are going to get! That said when most people think of bolognese they think of Italy and pasta, most often people assume that this dish originated from Bologna, but this is actually just a myth. In reality, the first bolognese did not involve pasta at all but instead was the thick sauce itself with various ingredients, almost like a chili. Either way, a lot of people, including me, are very happy to have this amazing dish as it's a common favorite pasta dish worldwide.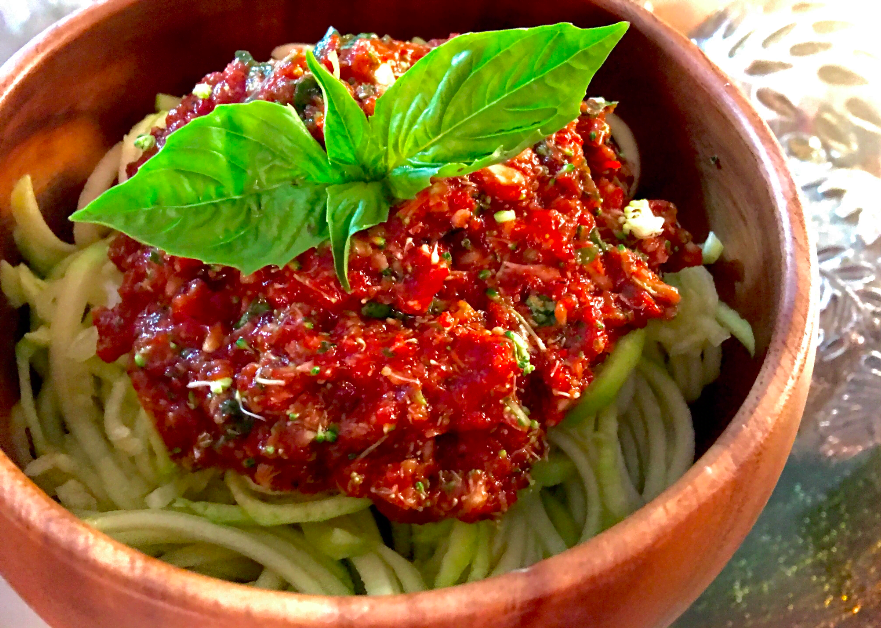 Raw Vegan Bolognese
Ingredients:
•  4 medium zucchini (1 lb / 460 g)
•  4 tomatoes (1 lb / 460 g)
•  broccoli (.25 lb / 115 g)
•  sun-dried tomatoes (1/2 cup / 30 g)
•  basil to taste
*Optional: add half a cup of mango for a sweeter flavor, recommended 🙂
Directions:
1. Using your chosen method (I prefer making thin angel hair noodles with the Joyce Chen spiral slicer) prepare the zucchini noodles reserving any extra bits.
2. Squeeze juice from tomatoes (drink or reserve for a salad dressing) and blend with sun-dried tomatoes and basil.
3. Chop broccoli into medium chunks and add to the blender with any zucchini bits pulsing sauce lightly till desired chunkiness.
ps do not over-blend chunks, better with some texture.
(300 Calories)
This raw vegan bolognese recipe aka faux bolognese is just one of 50 delicious, perfectly food combined,
Hygienic raw vegan recipes from my "50 More Frickin' Rawsome Recipes"!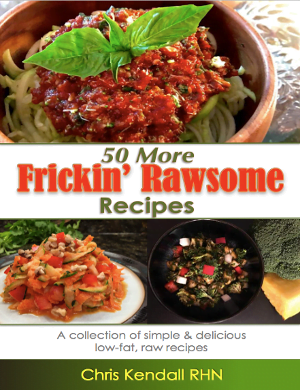 I originally created this recipe video to celebrate the launch of this book, it has now become a classic!
If you enjoy simpler raw recipes that focus on ease of digestion so that you can get the most from your food then you will love both my original 101 Frickin Rawesome Recipes as well as its companion 50 More Frickin Rawesome Recipes! I hope you LOVE them both!
As Always
Wishing You Much
PeaceLovenSeasonalFruit ck