Bolognese – The Best Raw Vegan Bolognese Recipe!
Does the thought of a thick hearty and chunky bolognese get you excited?!
It's one of my favourite meals, now you can enjoy it again with this simple yet authentic raw vegan bolognese recipe from my new "50 More Frickin' Rawsome Recipes" ebook available by donation! 🙂
I really hope you Love love love this recipe as much as I do, ingredients and instructions below 🙂
Enjoy this recipe as a special bonus for the launch of my new book
"50 More Frickin' Rawsome Recipes"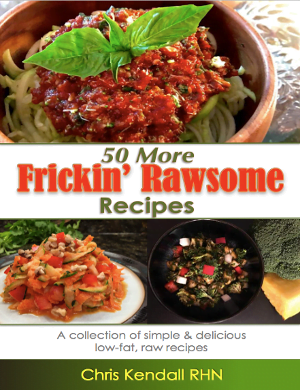 Back to the recipe at hand, when I think of Bolognese I think of a really hearty, savoury filling chunky tomato sauce drenched over noodles, and thats what your going to get!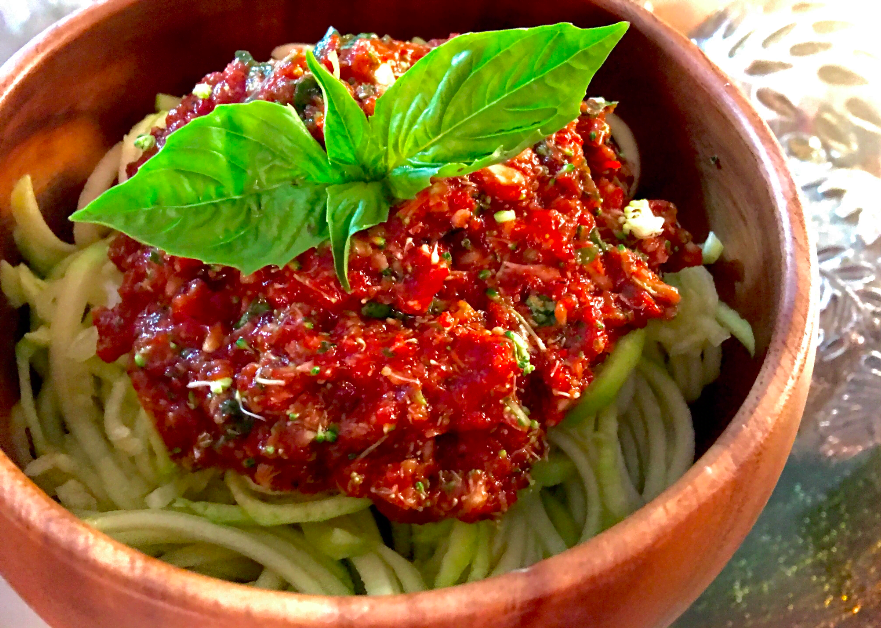 Faux Bolognese
Ingredients:
•  4 medium zucchini (1 lb / 460 g)
•  4 tomato's (1 lb / 460 g)
•  broccoli (.25 lb / 115 g)
•  sun dried tomatoes (1/2 cup / 30 g)
•  basil to taste
*Optional: add a half a cup of mango for a sweeter flavour, recommended 🙂
Directions:
Using your chosen method (I prefer making thin angel hair noodles with the joyce chen spiral slicer) prepare the zucchini noodles reserving any extra bits. Squeeze juice from tomatoes (drink or reserve for a salad dressing) and blend with sun dried tomatoes and basil. Chop broccoli into medium chunks and add to the blender with any zucchini bits pulsing sauce lightly till desired chunkiness. ps do not over blend chunks, better with some texture.
(300 Calories)
I really hope you Love the recipe and look around the new site, check out the Recipes playlist, the new easier to navigate Blog, the new Consultations page, the TRA Dream page and of course the shop to grab "50 More Frickin' Rawsome Recipes"  🙂
Wishing you Much
PeaceLovenSeasonalFruit ck