Falafel Recipe | The Best Raw Vegan Falafel Balls
What are falafels without the perfect crispy falafel ball? Texture and taste is key. After trying more than a few recipes, I really feel I nailed it! This recipe is fairly easy to make, tastes just like the real thing, and leaves you feeling light!
I hope you love the recipe n wishing you Happy Holidays 🙂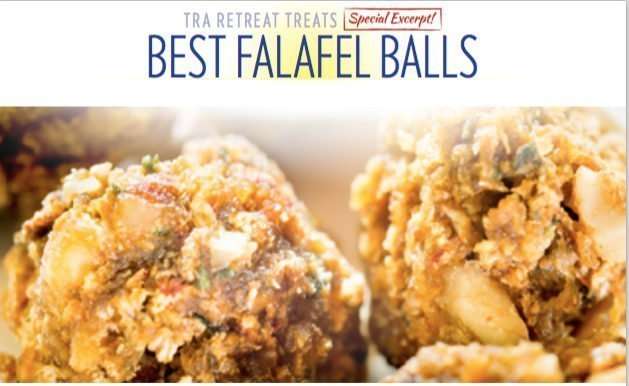 Ingredients: Makes 12 – 20 balls depending on size 🙂
DRY
1/3 medium Caulifower
1?4 cup raw Walnuts
1?2 medium Carrot
1?2 medium Zucchini
2 Green Onions
Cilantro, Oregano, and Parsley, to taste
WET
1?2 medium Zucchini
1/6 cup dry Chickpeas* (Soaked 12 hours, sprouted 6 – 24 hours rinsing 2 times a day )
1 Lemon
1?4 small Red Onion
1 small handful raw Pumpkin Seeds
Optional: 1 clove Garlic, 1 tsp Cumin
Loosely chop the cauliflower, walnuts, carrot and zucchini from the dry ingredients, pulse using a food processor in batches (if you do not have a food processor you can grate ingredients) adding the green onions and herbs to taste. You are looking to achieve a "couscous" type texture, mix together well. Peel zucchini in the wet list, blend with soaked and sprouted chickpeas, juiced lemon, red onion, pumpkin seeds and optional ingredients (recommended). Pour wet ingredients over dry, mix really well. Should be thick and slightly wet. Gently form into small golf ball sized falafels using just enough pressure for just a tiny bit of juice to come out. Place on dehydrator trays (I recommend excalibur – grab yours here for the best deal) and dehydrate for 6-8 hours at 115° turning over once, front balls to the back and back to the front, 4-5 hours into the dehydrating time. Balls should be crisp on the outside, slightly moist in the middle.
Double, triple, quadruple the recipe and freeze for up to a few months for future Frickin Falafels, or maybe a falafel party! Serious stuff. 😉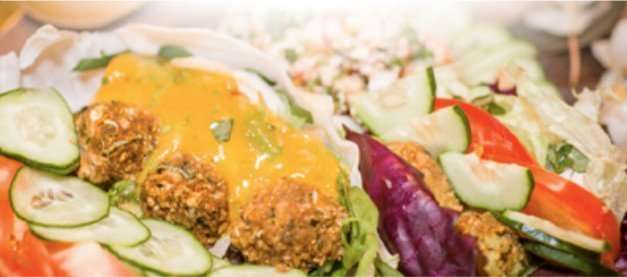 Serve warm on a salad or in the beautiful Frickin' Falafel recipe with Tzatziki and Tabouli!
* All of these recipes are free in my "TRA Retreat Treats Special Excerpt" for joining my List Here!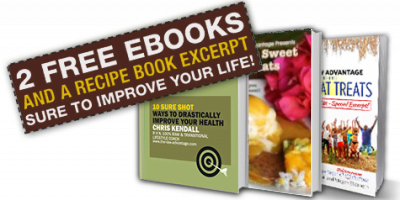 Bonus Recipe
RAW SPROUTED HUMMUS
Ingredients:
1/6 cup dry Chickpeas* (Soaked 12 hours, sprouted 6 – 24 hours rinsing 2 times a day )
1/2 zucchini
2 tablespoons tahini
juice of 2 medium lemons
1/4 cup sun dried tomatoes
Optional Ingredients:
1 tablespoon cumin
2 teaspoons coriander
dash or two cayenne pepper
Starting with dried garbanzo beans the day before, place in a large bowl and fill with purified water. The beans will double in size so be sure to cover and leave plenty of extra water for them to soak up, about 2 to 3 times as much water. Soak for 8 -12 hours. Rinse and drain thoroughly. Leave your beans anywhere at room temp and rinse and drain once every 8 – 12 hours for up to two days.
Peel zucchini and rough chop, place all your ingredients into your blender (zucchini first)and blend until creamy. Taste for flavor adding anything extra you like. If its too thick add 1 tablespoon of purified water at a time until desired consistency.
Get the best of the best of my Low Fat Raw Gourmet Recipes in TRA Retreat Treats available by Donation Here 🙂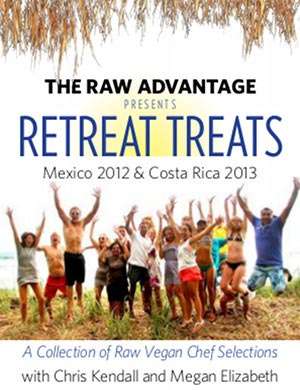 If you want to take your raw food game to the next level..
Grab a Excalibur dehydrator to experience new textures tastes and ease in your healthy raw food lifestyle!

Enjoy a few Special Vitamix Discounts available only till Dec 31st!!
Grab your New Vitamix, 7 year warranty with FREE shipping here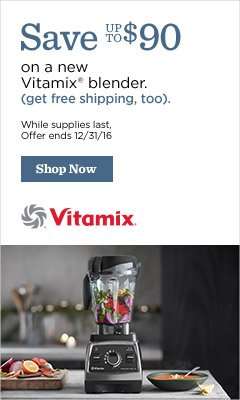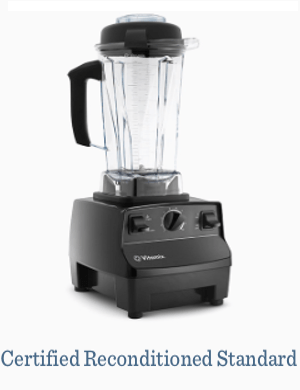 Grab your Refurbished Vitamix, 5 year warranty with FREE shipping for the best deal here
PS – Check out my Video on the TOP TIPS to get the most out of your Vitamix Blender!
Check out my Raw Food n Yoga Surf Adventure Retreats here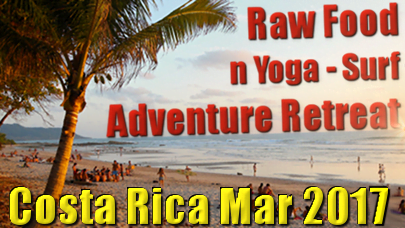 Watch a Day in the life at my Raw Food n Yoga Adventure Retreat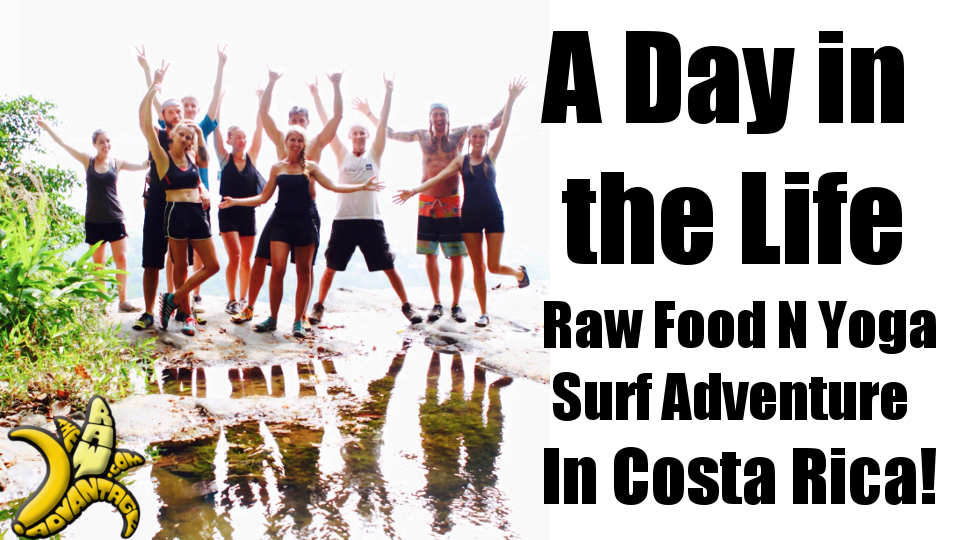 I hope you love the recipes and decide to join me in Costa Rica this March!!
If you have any questions feel free to reach out at info@therawadvantage.com 🙂
Wishing you the happiest of holidays and much
As Always
Wishing You Much
PeaceLovenSeasonalFruit ck