Cowboy Mashed Potatoes Recipe | Raw & Vegan
If you are looking for a simple raw vegan recipe that really sticks to your ribs then this is for you!
I hope you really enjoy the video and LOVE this quick, easy super delicious, hearty 5 ingredient
Raw Vegan Cowboy Mashed Potatoes Recipe!
I hope you enjoy the Cowboy Mashed Potatoes Recipe Video,
Full ingredient breakdown, written directions, and referenced video links below 🙂
Speaking of Raw Vegan Recipes…
If you love raw food recipes and want a TON more,
Check out over 100 FREE Raw Recipes on my Raw Recipe App!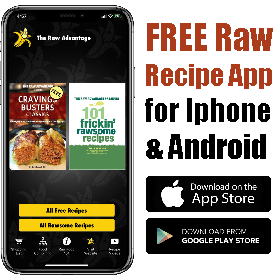 Its FREE on the itunes and google play store, includes a food combining chart, helpful tips, a calorie conversion chart for common fruits and veggies, my best raw recipe videos, access to special deals, search by ingredient and recipe as well as a shopping cart function to make shopping easier!
If you haven't checked it out give it a Go, if you have and you love it please consider doing a review in the app store!
---
If you are ready to make a real change for the better and want to grow physically, emotionally, socially, spiritually, and intellectually through applying a truly healthy holistic raw vegan lifestyle…
 Then check out the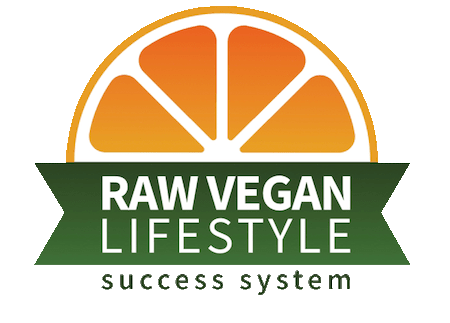 Imagine applying a holistic raw vegan lifestyle with confidence and ease, achieving your goal weight, looking and feeling better in your own skin, and actively living the energy-filled life of your dreams! I can tell you it's not only possible but predictable if you are committed and take action, I am here to help with the Raw Vegan Lifestyle Success System, designed for you to streamline your path to enviable health and fitness in just 10 weeks!
I believe in this system so much that I am offering a full 90-day No-Risk Guarantee,
Check out the link to learn more and to take advantage of the NO-Risk Guarantee
What are you waiting for,
I hope you decide to join us!
---
All right all right enough shameless promo…
Let's get to the simple low-fat raw vegan recipe!!
This is one of those recipes that sticks to your ribs, a hearty and tasty recipe that most people would be shocked to know was raw after indulging, I hope you really enjoy it!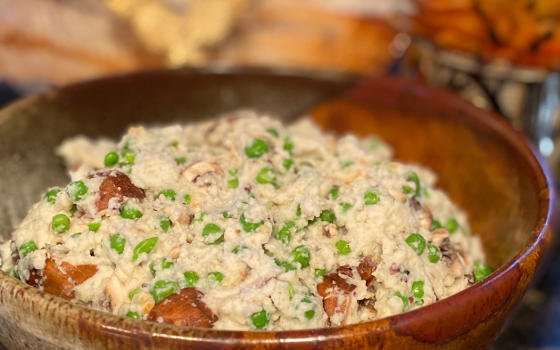 To Make Raw Vegan Cowboy Mashed Potatoes you will Need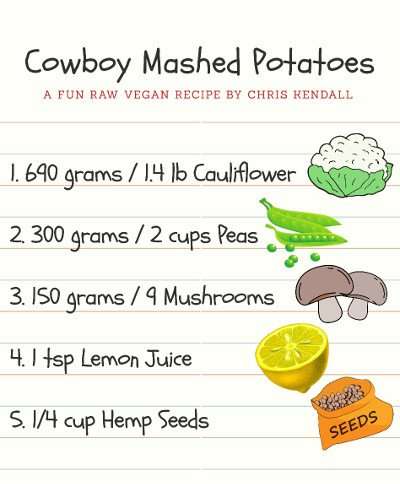 Place the 2 cups of Peas (or sprouted lentils) in a large bowl, you can use fresh or frozen peas, if using frozen defrost first. Store-bought frozen peas are blanched so not 100% raw, but, if you freeze fresh peas and thaw them they taste and feel almost identical. I occasionally have store-bought frozen peas despite the above as I find they digest amazingly and can not tell the difference.

Dice the 9 / 150 grams of mushrooms into dice-sized squares or simple quarters, and if desired dehydrate for 1 hour on 118, once ready place them in the bowl with the peas and mix well. If you want to learn more about raw mushrooms and vitamin D check the post below 🙂

Chop the 690 g / 1.4 lb medium cauliflower into medium chunks and add to your blender, best with a powerful blender with a tamper like the Vitamix (check out some here with FREE Shipping)

Add the 1/4 cup hemp seeds and lemon juice from approximately 1/2 of a lemon, or 1 tsp of juice to the blender and blend at high speeds using the tamper to force the cauliflower into the blades until it's well blended and either fully smooth or little chunky, your preference.

Pout the "mashed potatoes" over top of the peas and mushrooms, stir well, and…
Yeeeeee Haw, you have Cowboy Mashed Potatoes!
This is a simple base recipe, feel free to swap out the peas or the mushrooms, or add more ingredients to the mix, some great options include, fresh corn kernels, tomatoes, dill, chopped arugula, diced peppers, jalapeno, avocado cubes, green onions, any anything else you can imagine!
I really hope you Love it, if you like hearty raw vegan recipes like this then you will LOVE my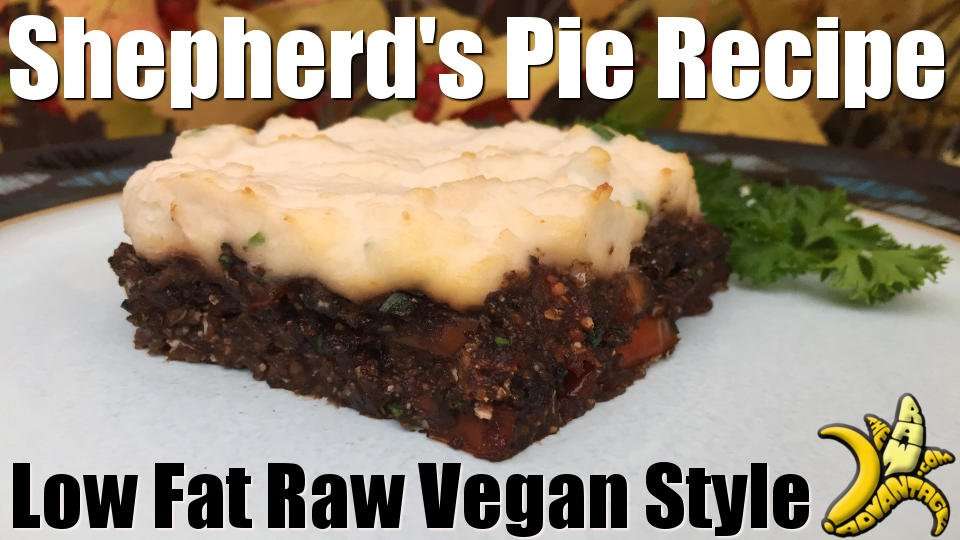 Check out the Raw vegan Shepherds Pie recipe here!
---
As mentioned above, if you are interested in learning more about mushrooms check out my
Top 4 Ways to Get Vitamin D as a Vegan Here!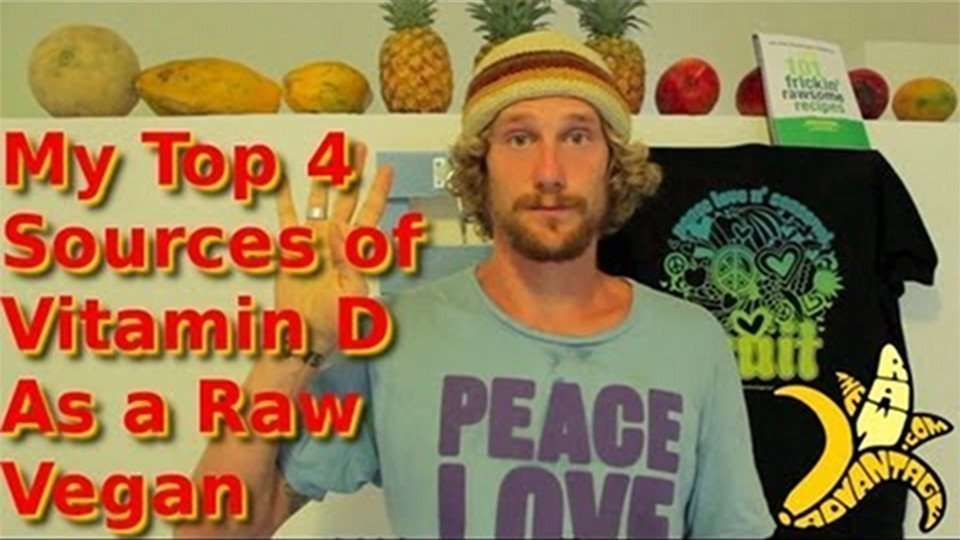 I hope you enjoy the video and more mushrooms!
---
Last but not least, as referenced in the video, check out the Vitamix vs. Flexzion Video Here!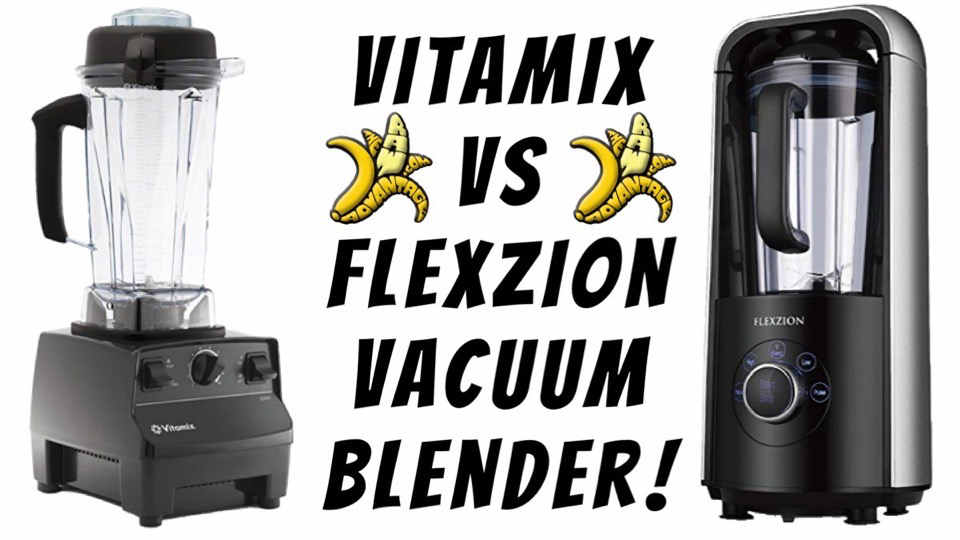 If you are interested in getting either of these two blenders and want to support my banana habit…
Check out the Flexzion Vacuum Blender on Amazon for around $99 – $150
Or, Grab the tried and true Vitamix with its 7-year warranty and FREE shipping Here
I hope you enjoyed the vs. video as well as enjoy the recipes shared above!
As Always
Wishing You Much
PeaceLovenSeasonalFruit ck