Shepherd's Pie Recipe | Low Fat Raw Vegan Style
Imagine a hearty, savoury shepherd's pie sitting right in front of you with a slight crisp on the edges of the creamy "mashed potatoes"… A intoxicating aroma fills the air bringing you back to a cold winter day where such a dish warmed your soul and sticked to your ribs.
Now realize that this Shepherd's Pie is Raw, Vegan and Low Fat…
You DIG IN!
No Need to imagine, with this recipe video you can easily make it yourself!
Shepherd's pie is one of those nostalgic comfort food recipes that many raw vegans thought the had to give up, but no more! This recipe is super hearty and satisfying and yet still low fat!
Let me know how you love it by taking and sharing a picture, tagging me in it on instagram @therawadvantage or Facebook and add some fun hashtag's like #therawadvantage #bananacommander or anything creative and fun so I can find ya 🙂
To the Raw Vegan Shepherd's Pie Recipe!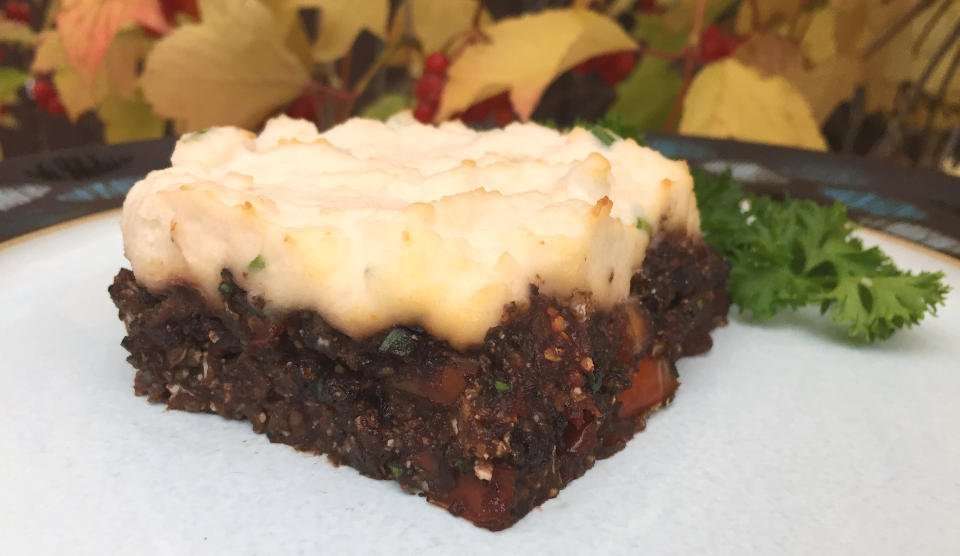 Shepherd's Pie by Chris Kendall
Creamy, thick, authentically tasty and satiating!
This is a Cravings Busters recipe that really "sticks to your bones" and leaves you feeling full for hours. Makes 1 large serving.
Ingredients
? 4 Roma Tomatoes (1 lb / 460 g)
? 1/2 Cauliflower (1.25 lb / 575 g)
? 4 Stalks of Celery (.33 lb / 150 g)
? 1 Portobello Mushroom (.5 lb / 230 g)
? 1/8 cup Salt-Free Raw Olives
? 1/8 cup Sun Dried Tomatoes
? *4 Green Onions (.08 lb / 36 g)
? 1/2 Lemon (.125 lb / 75 g)
? 1/8 cup Raw Sesame Seeds / or Hemp Seeds (my preference)
Optional: (added Dec 2019)
? 1/4 cup Walnuts (soak 4- 6 hours if desired)
Tools Required
? A Good Blender (I highly recommend the Vitamix, get yours with FREE Shipping here)
? Dehydrator (I recommend the Excalibur, get yours with FREE shipping here)
1. Finely chop/dice 1/3 of the cauliflower, 1/2 of the celery, 1/2 of the tomatoes and place in a small square casserole dish.
2. Blend remaining tomatoes with sun dried tomatoes, olives, 2 green onions, the rest of the celery until smooth and creamy.
3. Add the mushroom and optional soaked and drained walnuts to the blender and pulse very slow to retain a crumble, alternately finely chop the mushroom and add it to the casserole dish.
4.Pour the tomato "Gravy" over the chipped /diced tomatoes cauliflower and mushroom, stir well.
5. Wash your blender, optionally soak remaining cauliflower in hot tap water for 2 minutes to soften.
6. Place in the blender with the bottom white ends of the 2 remaining green onions, the lemon juice and the hemp seeds or raw sesame seeds. Blend to desired consistency, some like their mashed potatoes smooth some like them slightly lumpy. (Best to use a Vitamix or other high powered blender with the tamper. If you do not have one use celery sticks to force the cauliflower into the blades until smooth as you can get it.)
7. Finely dice the remaining green onion stems and mix into the "mashed potatoes".
8. Pour cauliflower mash over the base layer and smooth it out.
9. Optional to place in the dehydrator at 115°F – 118°F for 2 – 4 hours to warm and slightly crisp the top, otherwise it's ready to serve!
---
If you like this recipe and want a ton more low fat raw gourmet recipes like "potato salad", deluxe bbq burgers, hash browns, mac n cheese (by Naturally Ashley), nice cream floats and more…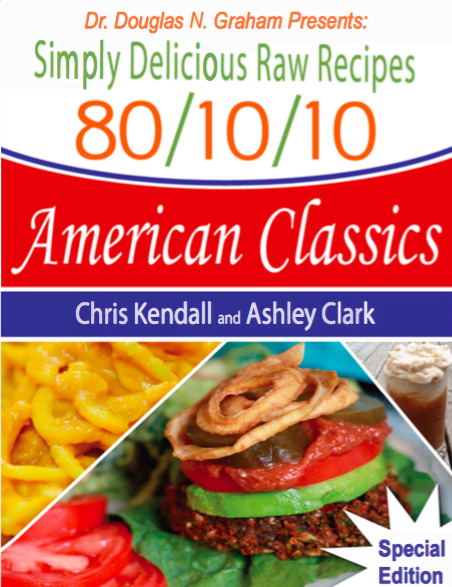 Be sure to check out my newest ebook Simply Delicious 80/10/10 Raw Recipes "American Classics"
---
Also
Grab your "Don't Have a Cow, Go Bananas" T-shirt Here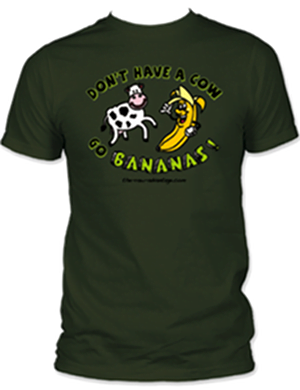 Check out all of my other Raw Vegan Inspired Organic T-shirts!
---
Not sure about Mushrooms?!
Check out this video on My Top 4 Sources of Vitamin D as a Raw Vegan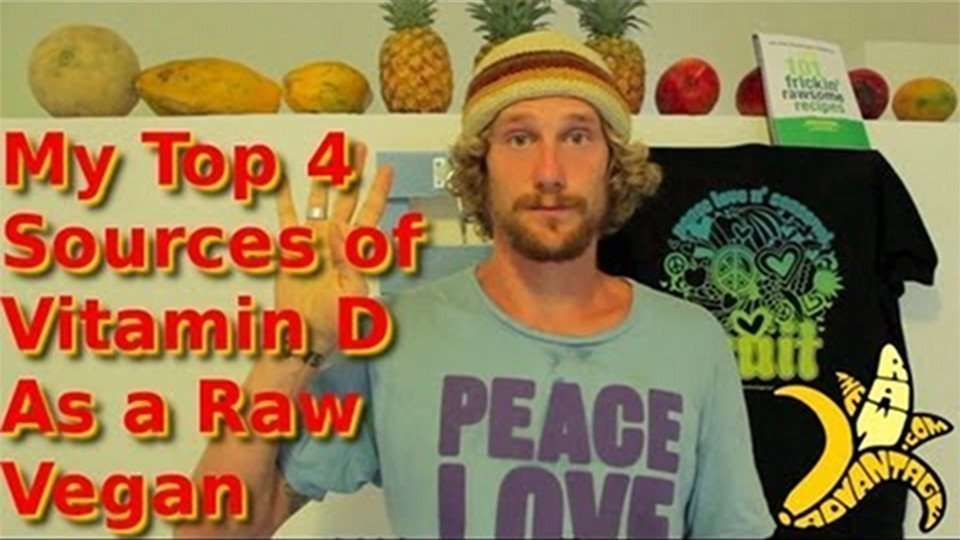 I hope you find it both insightful and tasty!
Check out my Rawsome Recipes Playlist for a ton more FREE raw recipe Videos Here
Is Barley Grass Juice Powder the Best Green Powder? Learn more Here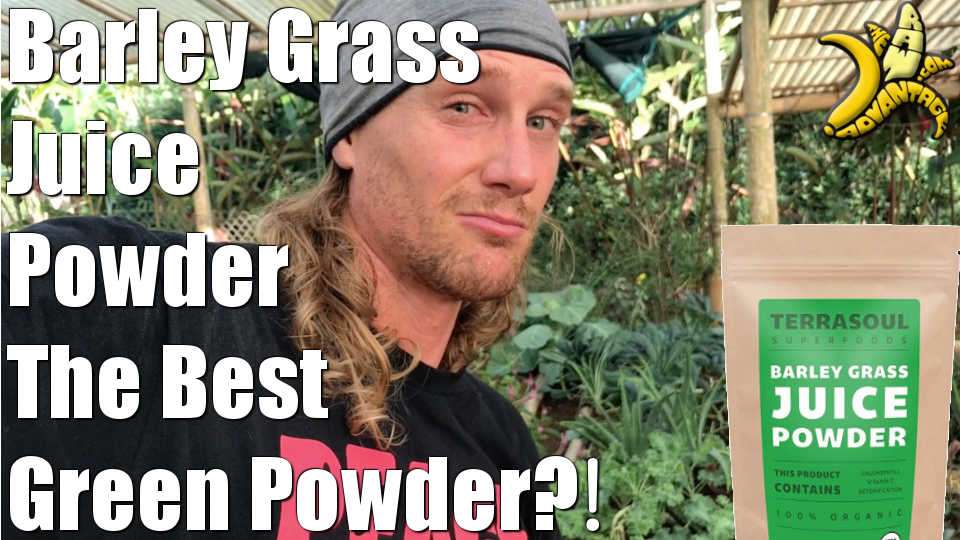 I hope you Love love love the recipe and enjoy all the rest in the
Simply Delicious 80/10/10 Raw Recipes "American Classics"  ebook!
As Always
Wishing You Much
PeaceLovenSeasonalFruit ck