The 2011 Woodstock Fruit Festival and Panties!!
hahah Thats Right!!
Panties!! 🙂
Very excited to showcase both my 1st Video from the Woodstock Fruit Festival as well as my newest gear!!!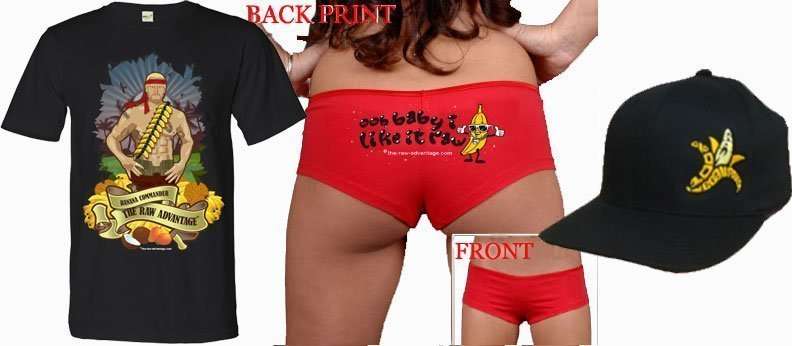 Check out the Banana Commander T Shirt,  the Ooh Baby I Like it Raw Panties,
and The awesome 100% Raw Vegan Power FlexFit Hat!
I also want to mention my Raw Surfing Skateboarding Yoga Retreat is near full capacity!! Only one single and two Cabins for a couple or close friends sharing a bed left!!! Sure to be a most most most amazing time book today before you realize you missed out for tomorrow!!
On to the Video!!!
Seriously What can I say?
The Woodstock Fruit Festival in the Catskill Mountains in August of 2011 was the most epic awesomely Rawsome time ever!! Thanks so so so much To Michael and his WIfe Victoria Arnstein (TheFruitarian.com) for putting on such a amazing event and special thanks to Yuliya for organizing and inviting me to come Chef and teach Kendalini Yoga, it really was a Blessing to be a part of, SO so excited for Next Year, Im already in! 🙂
Enjoy the Video!!
Wow once again I am at a loss for words, I do think I will let the video Speak for itself for the most part, (I will update and expand on this post, Time is short in the now) much love to you all!!
Thanks so much to Miss Organic, Nicci Gafen for filming and being Awesome, take that Miss O!
There were so many amazing presenters at the Woodstock Fruit Festival who I feel blessed to have met (some 1st time other 2nd n 3rd) and created bonds of friendship with. The Amazing Dr Sam, Dan "the liferegenerator" Mcdonald, "the Lighthouse" Dr Douglas Graham, Don Bennett, The RawBrahs, Anne Osborne, Tim Van Orden, Dr Robert Lockhart, Tony Wright, Ashley Hamilton, Brian Greco, Karen Ranzi, Ellen Livingston, DurianRider, Freelee, Michael "The Fruitarian" Arnstein, Kristina Carrillo-Bucaram and so many other amazing and inspiring loving people!! so much love to you all.
Coming soon part two, as well as interviews with most of the people above!! 🙂
PeaceLovenSeasonalFruit ck 
As Always
Wishing You Much
PeaceLovenSeasonalFruit ck