This is my personal favorite simple raw vegan nice cream recipe, save and share this post to spread the yummm!
Enjoy the Best Bubble Gum Nice Cream Recipe Ever!❤️🥳
A quick heads up, only 5 Days Left to get the deal of the year: 200+ Vegan Resources in the Plant Based Bundle, worth over 🤑$8860🤑 at 99% off = $50 but only until 11:59 pm EST Nov 28th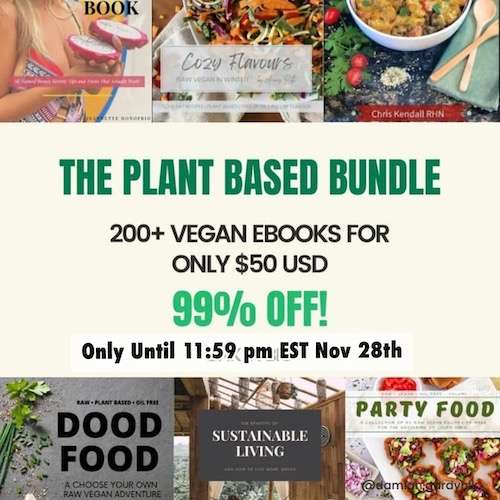 ⏳💥 Learn More and Grab it while you can Here! 🥰
Why Nice Cream?
Because Dairy is Scary, check that video on YouTube as well as DitchDairy.com to grow in the reasons to embrace the vegan lifestyle and delicious cruelty-free recipes like this and thousands of others in the bundle🤤❤️
Enjoy the video to learn how to make this simple two-ingredient Bubble Gum Nice Cream recipe🥰
This Recipe is💥
✅Super Delicious
✅Satiating
✅ Fat-Free
✅Dairy Free
✅Raw Vegan
✅and Sure to blow you, and anyone you share it with away!🤯
The Best Bubble Gum Nice Cream Recipe 
5-6 Bananas (1.1 lb / 500 g)
Jackfruit (1.1 lb / 500 g)
Peel your bananas at least 12 hours before and place them in a freezer bag, suck out the air, and place them in the freezer overnight or longer, do the same for the jackfruit, or, purchase frozen jackfruit from an ethnic store.
Remove the frozen bananas and jackfruit from the freezer and let them stand on the counter 5-10 minutes to slightly thaw.
 Chop into bite-sized pieces and add 1/2 of each fruit to your high-powered blender, I recommend the Vitamix, or a quality food processor with an "S" blade.
If using the Vitamix its best to only fill the blender to about 1/2 of its capacity, put the lid on, turn on at a slow speed and then quickly turn it up to full speed and vigorously use the tamper to force the mixture into the blades making sure to push from every angle. If using a food processor turn on full speed and let run until smooth or until you need open and push chunks into the center with a spatula.
Repeat with the other 1/2 of the fruit and serve in a big bowl or two or more if you are sharing.
(920 Calories)
Share with a friend you think would Love this recipe and be sure to Check Out 

The Plant-Based Bundle before this incredible deal slips Away!💥
As Always
Wishing You Much
PeaceLovenSeasonalFruit ck