Wishing you a very Merry Xmas with this super tasty and simple Raw Vegan Sushi Recipe that uses my secret trick to make the rice stick!
I just LOVE sushi, long before I embarked on a raw vegan lifestyle sushi was a fave! Due to potential issues with nori and many seaweeds in general I didn't have sushi for a long period of time, this is when I came out with the "Better than Nori" recipe video (Link and more info below) and it was back on my menu. Since then I have found quality sources of sea veggies, most notably SeaVeg.com for some dulse flakes and kelp powder, and now RawNori.com (get 5% off with my code "CHRIK5") for amazing certified organic raw and vegan nori that is really increasing my sushi parties!
The one thing I always had a hard time with when making raw sushi is that the rice tends to be crumbly and not stick together. I tried at least a dozen ways to try to get it to stick but most left the "rice" either soggy or with a strange texture or flavour, that is until I figured out the secret that I share in the video! As a added bonus the "secret" also brings up the omega 3 content of the recipe and creates a nearly perfect omega 3 to 6 profile for the dish which is a huge plus!
Now my Love of Sushi n Rolling Game has never been as strong!
Let's get to the recipe!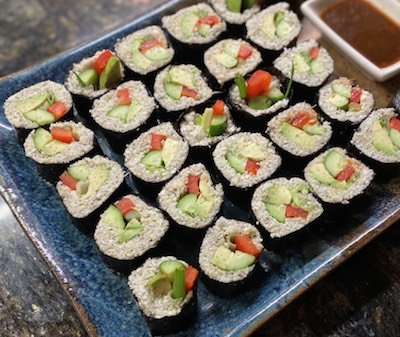 Raw Vegan Sushi Recipe – makes 4 rolls
1 lb / 460 g Cauliflower ~ 1 Small
.22 lb / 100 g Fresh Ginger – Large Chunk
4 tsp Lemon Juice ~ 1/2 a Lemon
1/8 cup Chia Seeds
.33 lb / 150 g Cucumber ~ 2 Small Girkins
.17 lb / 75 g Red Pepper ~ 1/2 a Pepper
.05 lb / 25 g Green Onion ~ 2 Medium
.4 lb / 180 g Avocado ~ 1 Medium
8 g Raw Vegan Nori Sheets ~ 4 sheets
Note: The best results come with the exact measurements in order to make the right sized rolls, especially if multiplying the recipe 🙂
Start by removing the leaves from the cauliflower, rinsing it off well and shaking the water from it. You do not need fully to dry the cauliflower but you also do not want it dripping wet, once washed set aside.
Peel the ginger with the back of a spoon or knife, chop into coin sized pieces and place into a food processor with the "S" blade. Pulse until finely chopped using a spatula half way through to make sure its uniform. PS – I Love ginger and this is just enough to taste it in the recipe, if you do not like ginger you can cut in 1/2 or omit.
Leaving the ginger in the food processor rough chop and add 1/2 of the cauliflower to the ginger and pulse until a rough "rice" like consistency is created. Using the spatula remove the "rice" and place in a separate bowl or square pyrex dish, continue with the other 1/2 of the cauliflower and place in the dish.
Pour the 4 tsp's of lemon juice over the "rice" and stir to evenly coat.
Grind the Chia Seeds in a seed grinder / coffee grinder / vitamix / magic bullet etc and then pour the "chia powder" over the "rice".
Stir well to evenly coat, pat down in the bowl / pyrex dish so that its evenly spread, use a knife to cut 4 even squares so you can see how much "rice" goes into each roll, set aside. *the video may help visualize this.
Chop the ends off the cucumbers and slice each cucumber into 4 lengthwise strips or sticks, set aside.
Slice the red pepper into 12 – 16 strips, 3 – 4 per roll.
Slice the green onions in half lengthwise and set aside.
Cut the avocado in 1/2, remove the pit and then cut each 1/2 into a 1/4 lengthwise and each 1/4 into 3 slices, loosely scoop with a spoon and set aside.
Place a sheet of raw vegan nori shiny side down on a sushi rolling mat, scoop out 1 square or 1/4th of the "rice" mixture and spread on the bottom 2/3 of the sushi paper leaving 1 inch at the bottom and 1.5 at the top.
Use your hands or a pie scoop to fimly press and shape the "rice" to the nori sheet, the video will help show this.
Place 3 strips of avocado, 2 strips of cucumber, 3-4 red pepper strips and 1 green onion half on top of the rice.
Carefully use the sushi mat and your fingers to roll the sushi mat up 3/4, squeeze the roll, dab some water on the loose end of the nori and then roll to seal and squeeze.
Place on a clean cutting board and carefully cut in 1/2, in 1/2 again and then in 1/2 again with a very sharp knife, I find serrated works best.
Serve as is or with your favourite dipping sauce!
*If you do not have a food processor you can make the "rice" using @rawfoodromance's "Wet Chop" technique!
I hope you absolutely LOVE this Raw Vegan Sushi recipe and that it makes sushi a new favourite to help you thrive with a raw vegan lifestyle!
Be sure to check out more FREE recipes in the Rawsome Recipes Playlist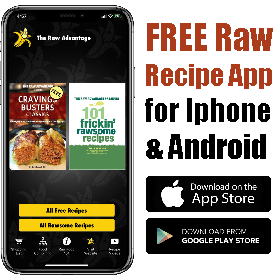 and/or in the FREE Raw Recipes App!
Stay tuned for the Inside-Out Rolls video next week!
Check out the "Better Than Nori"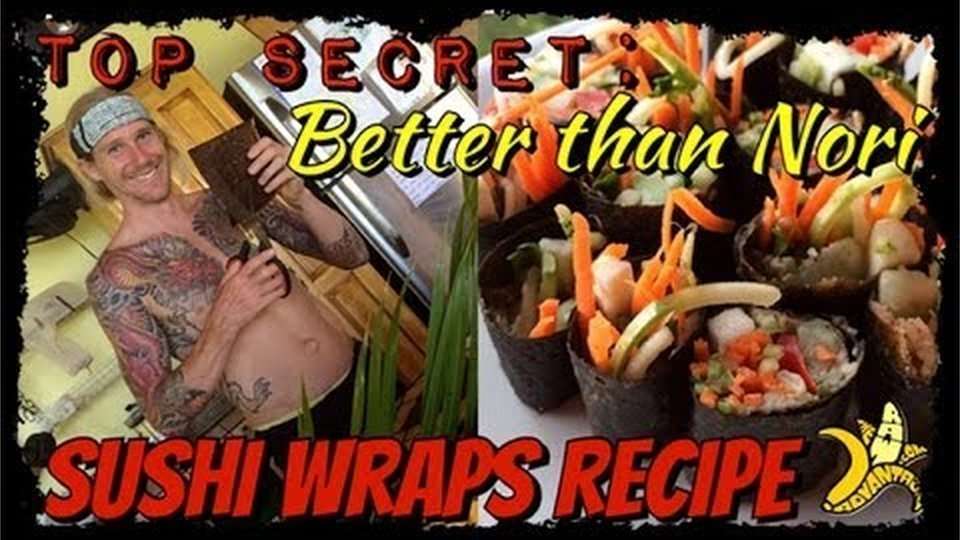 Raw Vegan Nori Recipe and Post Here! 
*Grab some certified Organic Raw Vegan Nori for 5% off with my code "CHRIK5" at RawNori.com
As always Much 
PeaceLovenSeasonalFruit ck