The Best Simple No Fat Raw Pizza Recipe!!
Today I wanted to share with you a simple, tasty, no fat, delicious raw pizza recipe from my TRA Retreat treats ebook (available in paperback, ebook or on the iphone app)  The version I'm making today varies just slightly because I'm using local ingredients, which you should always do – make use of what's in season, what's local – you should never be afraid of changing up a recipe a little bit to use what you have available to you 🙂
~ Peep the video and be sure to grab the recipe below ~
---
Before we get into the pizza recipe itself, if you like pizza and want to really become the ultimate raw pizza ninja…
 I'm excited to say that you have no need to dream, after 5 years of RnD I feel so blessed to bring you my newest Book/Ebook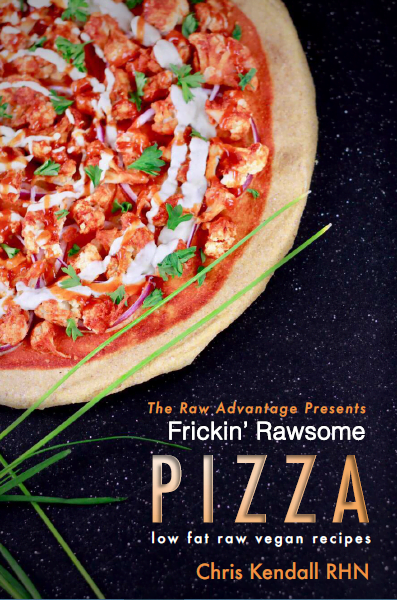 Enjoy your step by step recipe guide filled with 18 of my absolute favourite pizza recipes,

– 8 new quicker and tastier low to no fat pizza crust recipes
– 12 delicious sauce recipes
– loads of simple and low fat raw gourmet toppings
– 6 creamy cheese recipes
all ready to combine to make your own custom pizza's sure to satisfy all of your pizza cravings!
I can honestly say that these pizzas are better than 99% of the cooked pizzas I have had in my life!
This recipe book also comes with fine tuned tips to help you make the toppings taste and texture of your old favourite cooked pizzas!
Enjoy 96 pages of Frickin Rawsome Pizza on 100% Recycled Paper with a Coil Binding!
Prefer an ebook? Download yours and start making Frickin Rawsome Pizza's today!
Learn a ton more and see some of the pizza recipes in the link above!
---
Back to the
Perfect Portobello Cap Pizza (makes 2)
Portobello Mushroom, 2 cap (.4 lb / 180 g)
Roma Tomatoes, 2 (.5lb / 230 g)
Red Pepper, 1 (.25 lb / 115 g)
Sundried Tomatoes, 1/2 cup (.075 lb / 32 g)
Basil, 1.2 bunch (.1 lb / 45 g)
Date, 2 (.11 lb / 50 g)
Green Onion, 2 (.06 lb / 30 g)
Lime, 1 – 2 tbsp (.14 lb / 67 g)
Oregano, small handful (.025 lb  / 11 g)
Optional: Garlic, Pineapple, hot pepper to taste..
1. Remove the stems from the mushrooms, placed cap side down and squeezed fresh lime juice all over them.  Then (optional) left them out in the sun to soften for about 4-5 hours or dehydrate for 1-3 hours.
** Check this post about getting enough Vitamin D as a vegan and how "Sunning" your mushrooms helps with this!
2. Chop up your tomatoes, onion and some pepper and add them to your blender and blend it up.
3. Add cliantro, dates and sun dried tomatoes and blend it up really well again.
4. Add a few more chunks of onion and the stems from the mushrooms.  Pulse them a couple of times to get a nice chunky sauce.
5. Spread the sauce on your mushroom caps and add your toppings.  I used some thinly sliced onions and pineapple.
6. Place back in the sun for 1-2 hours or in a dehydrator for 1-10 hours or till desired texture.
Note: When fully dehydrated it literally tastes like a day old domino's pizza, I am not kidding..
PS if you liked this simple low fat raw gourmet recipe be sure to check out my repeat favourites of all time from
TRA Retreat Treats!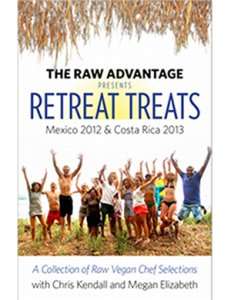 ck
As Always
Wishing You Much
PeaceLovenSeasonalFruit ck