The Raw Advantage Iphone App is Here!!!
Ohhh so so excited to share that my new Iphone App is Available for Free!!!
The Raw Advantage Raw Recipes App!!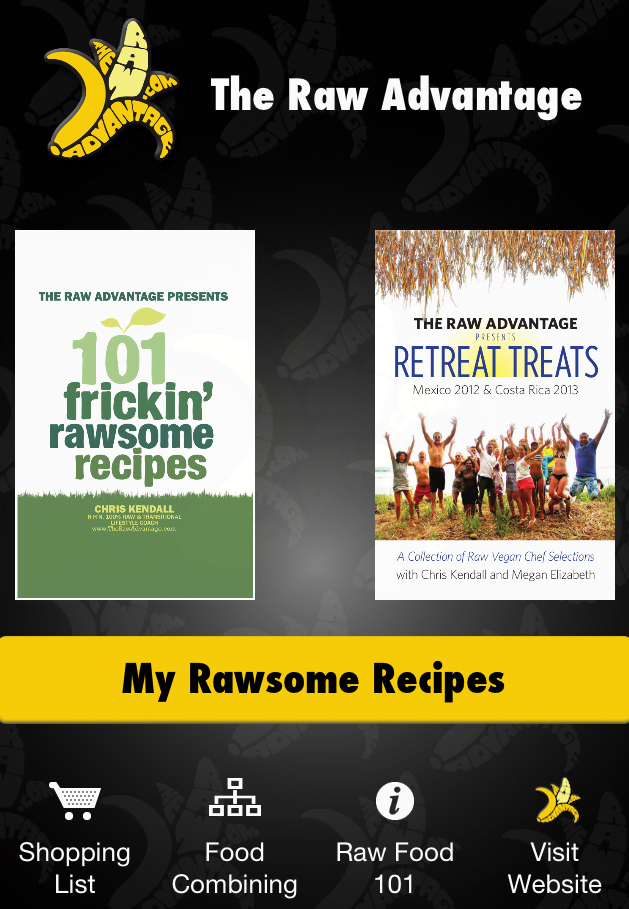 Both of my Recipe books are in there, neat charts, Shopping cart, Search by keyword and Ingredient so you don't need to think, it tells you what recipe to make!! WHoaaa Free!!! Share all over!!
Get it in the IOS and Android app store today!!
With over 100 perfectly food combined 80/10/10 style hygienic low fat raw recipes and over 30 "Cravings Busters" transitional low fat raw gourmet recipes, you are sure to satisfy any taste, texture and desire in any situation. Enjoy ease in deciding what to eat with 3 amazing ways to Search for recipes, by ingredient category or keywords, and keep track of what to shop for with a helpful "Add to Shopping cart" function.
In the spirit of abundance and the wish to share those simple recipes and tips that have so enlivened me, 40% of the 130+ recipes are included in the app with all of the charts, tips and the shopping cart for free!
ck
PS since this launch the App now has WAY more free recipes from a wider selection of my ebooks as well as more functionality!
As Always
Wishing You Much
PeaceLovenSeasonalFruit ck