Unboxing the Malaysian Durian Feast from YearoftheDurian.com
It's a tough job but someone gotta do it, Malaysian Durian Feast Unboxing Fun from YearoftheDurian.com!
Enjoy this unboxing of the Malaysian Durian Feast as we taste 6 types of super exotic Durians from Karak Malaysia with my Sweetie @kamillasyogakitchen and my good friend @davidkrugw courtesy of YearofTheDurian.com aka @durianwriter
The durian, sometimes known as the King of Fruits, is undoubtedly one of the strangest fruits in the world. It is extremely creamy, full, tasty, and occasionally stinky. People usually either LOVE durian or HATE it, unless they try high-quality durian (the quality and taste can vary greatly), in which case I find that 90% of the time people at least like it if not LOVE it, but this all revolves around delivery and quality! I strongly advise trying durian at least three to four times, ideally with someone who is familiar with the flavor and of the highest quality available. You probably haven't had a very nice durian if the one you try doesn't have the sweetest, most complex, and delectable flavor that you have ever had, together with the creamy smooth texture like the best pudding or custard you have ever had.
I'm not joking. I've eaten durians that made me nearly vomit them out right away and feel like I needed to wash my mouth out, and I've also eaten them while tearing up and declaring them to be the best food I've ever eaten. Because of the wide variety of flavors, people, like myself, travel all over the world to enjoy this beautiful fruit. However, you can now enjoy the finest exotic durian from the comfort of your home thanks to Year of the Durian!
That's enough, let's start unwrapping and sampling!
Try 5 – 6 of these magical Malaysian Durian in an amazing sampler feast delivered directly to your door!
Shipping now available in USA, Canada and also to Australia and Europe, learn more about this amazing Feast Here. YearoftheDurian.com ??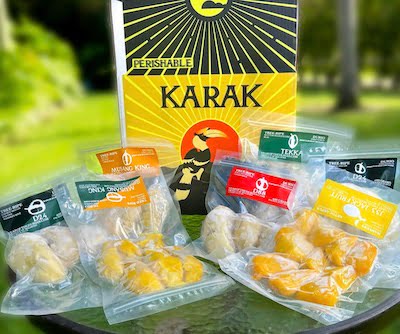 Below is some info from Year of the Durian on this Karak Malaysian Durian Sampler!
Welcome to Karak, Pahang
This misty little district along the old haunted highway running across the Malaysian peninsula is hidden in the folds of the granite hills of the Titiwangsa Mountain Range. It's a region encircled by jungles and mythology, a place echoing with the history of warring empires, sultanates, and bands of tribal people called the Orang Asli, the aboriginal Malaysians. Here in these small-holder farms and villages you can still spy the occasional hornbill or hear gibbons in the distance, even while not far away rusty scars of mining operations and new commercial Musang King farms transform the rolling hillsides into earthen lumps. It's a place where agriculture and nature are at an uneasy balance that can be overturned at any time. We hope that promoting export from smaller farms will help keep the peace.
This Malaysian Durian Box is from 4 Farms in the Karak/Lanchang region of Peninsular Malaysia
These are 400g packets! The Pre-selected Set Includes: 
Musang King from Jimmy's Farm: This Musang King, is silky smooth and alcoholic, with a berry-richness like red wine over custard
Musang King from Karak Farm: This Musang King is grown on the very first MyOrganik registered farms in Malaysia. It is thick and nutty, with a rich chocolate silkiness and less of the alcoholic tannins of Jimmy's Farm Musang King.
D24 XO from Jimmy's Farm: A smooth, thick, cookie-dough durian with bitter overtones of espresso and whiskey.
D24 from Karak Farm: The sweeter version of D24, with the thick, satisfying cookie-dough texture and rich brown sugar sweetness, but less of the whiskey finish of a D24 XO.
Tekka: Egg-custard rich and fatty, Tekka has a lingering Kahlúa-like syrupy-sweet alcohol with a coffee aroma.
Durian Sempe: Funky and wild, Durian is a different species of durian (Durio lowianus)
Add ONE Optional to completely fill your box: 
J33 Jackfruit: Super sweet and honeyed, this jackfruit has a uniquely pliable texture that makes it both firm and soft at the same time.
D88: Extremely fleshy and thick, this one is sweet and milky with a coffee level of bitterness.
This durian from Year of the Durian is TOP QUALITY, Hand Pickled at Peak Ripeness, Tasted for Quality, Quickly Flash Frozen, and Shipped to you no matter where you are!?
I am not a paid affiliate for the durian sampler sales, I simply LOVE Durian and want to share an AMAZING service from my friend Lindsay ??
Lindsay and her bf Richard travel all over the world in search of the best tasting most exotic durian with the mission to bring you the best of the best via these samplers as well as retreats, tours, and books!
Thanks to @durianwriter for bringing the tour to us and for offering such a great product, and service as well as Durian Tours in the most magical locations, learn more about their amazing tours here – Durian Tours!
I hope you enjoy the video and give a YearoftheDurian.com Durian Feast a try yourself! 🙂
If you enjoyed this Penang Durian Sampler Unboxing video and want to see more of what Year of the Durian offers be sure to check out my other Durian Platter Unboxing videos from the Philippines and Penang!
As Always
Wishing You Much
PeaceLovenSeasonalFruit ck