A Taste of Penang Durian Sampler Unboxing YearoftheDurian.com
Enjoy this unboxing and tasting of 4 types of super exotic Penang Durians courtesy of YearofTheDurian.com @durianwriter on IG
I love love love durian but this wasn't always so. Considered the King of Fruits some are afraid to try it because of how it looks and also because of the pungent oniony sulfur-like smell that some varieties can have. It breaks my heart when people say they do not like durian because 99 times out of 100 I find that people really like durian if they try a really good durian. It can be really helpful to try durian with someone who has had a bunch before so that they can tell you if you sampling a tasty durian as there is a huge gap between good and awful durian, some I have honestly spit some out, and swore while doing so!
To help you with this and to prevent a bad first durian experience I feel super blessed to share this Penang Durian Sampler and YearofTheDurian.com in general!
Below is the current info from Year of the Durian on their Penang Durian Sampler Pack!
Penang Island may be the most famous durian destination in the world. It's an island famous for food and foodies, a place where eating clubs go on holiday to rampage over a vast melting pot of cuisine. Once a trading mecca, Penang attracted settlers from China, India, the Middle East, and parts of Europe, who melded together into a solidly unique food culture – and one that is decidedly obsessed with the Best of the Best of the Best Durian. The island's small size means even the hipster Inner City Kids are just a 20-minute drive from prime durian real estate, old farms tousled by the dry sea breeze atop the crags and folds of the island's steep mountains. These mountain crevices hide a huge geography of winding cement trails, hidden fishing villages, beaches, Chinese and Hindu temples, and durians and durian people that we hope you will delight in discovering as you munch your way through this Durian Tasting Box.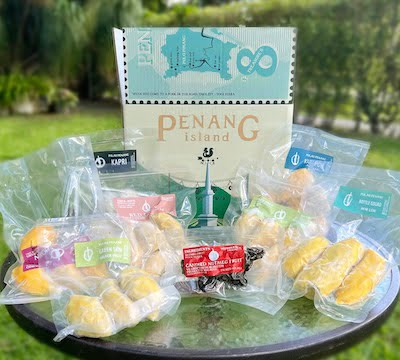 This Durian Box is from 5 different farms in Penang, North-Eastern Malaysia
These are 400g packets!
Black Thorn: 
Red Prawn: The Penang Classic, Red Prawn is like a dessert wine with floral notes and a light rosè tingle.
Green Skin: The most "bitter" of the four, this robust and buttery durian has a metallic edge that dark chocolate lovers will appreciate.
Kapri: Smooth & creamy rich, Kapri has a whiskey/rum nuance that some durian lovers will obsess over.
Kun Poh: One of the oldest durian varieties in Penang, Kun Poh has dark yellow/orange flesh, is extremely soft and milky and is sweet with hints of coffee.
Hor Lor: Often confused with Musang King because of its dark yellow, sticky and dry flesh, Hor Lor is nutty and sweet reminiscent of Peanut-Butter-Cup Chocolate.
Candied Nutmeg: Complimentary small sample of candied nutmeg.
Add ONE Optional to completely fill your box: 
D14: Thick and nutty, this durian is filling like an almond pastry.
Mung Bean: Smooth like vanilla ice cream with a hint of Kahlua.
Chempedak King: Extremely sweet with a bubble gum and burnt sugar flavor, this is a popular chempedak variety (a hybrid of chempedak and jackfruit).
Kim's Yellow Cempejak: Sweet and juicy with a refreshing acid-like lemonade.
Jenny Rose Cempejak: Mildly sweet with a berry aroma.
This durian from Year of the Durian is TOP QUALITY, Hand Pickled at Peak Ripeness, Tasted for Quality, Quickly Flash Frozen, and Shipped to you no matter where you are!
I am not a paid affiliate for this durian sampler promotion, I simply LOVE Durian and want to share an AMAZING service from my friend Lindsay of YearofTheDurian.com
She has traveled all over the world in search of the best-tasting most exotic durian and her passion is to bring that to you via these samplers as well as retreat tours and books!
Thanks, Lindsay and YearoftheDurian.com for bringing the tour to us and for offering such a great product, service, and tours!
Learn a ton more about her Tours, Durian Delivery, and Story Here!
Penang Island may be the most famous durian destination in the world, in fact, Lindsay from Year of the Durian has written an entire book just on Penang Durian
"The Durian Tourists Guide to Penang" shares where the best places in season are to get the best quality exotic durian!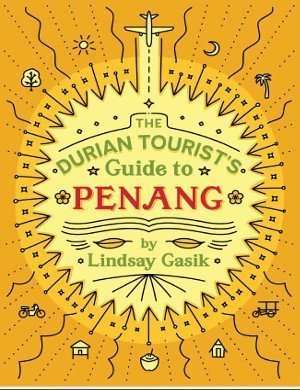 Beyond writing books, Lindsay also holds durian tours and retreats which I would highly recommend. If you can't make the trip and/or considering today's climate with travel, this amazing top-quality durian service is amazing beyond belief!
Learn more and enjoy your 3 or 4 durian sampler platter delivered directly to your door Here
If you enjoyed this Penang Durian Sampler Unboxing video and want to see more of what Year of the Durian offers be sure to check out my other Durian Platter Unboxing videos from Malaysia and the Philippines!
As Always
Wishing You Much
PeaceLovenSeasonalFruit ck