Lemon Rice Soup | Raw & Vegan
A old family favourite, traditional Greek Lemon Rice soup raw vegan style! I hadn't had this soup in well over a decade so had my mom, the OG lemon rice soup master, taste it for authenticity… and its a win!
I really find on of the key components of succeeding on the raw food lifestyle is finding at least 5 staple recipes that you love, can make easily and enjoy every time. This hearty creamy well flavoured raw vegan soup may just be one of them!
If you need to try more why not check out my whole raw recipe playlist, there are over 40 free recipes!
Hope you enjoy the Lemon Rice Soup and the others in the playlist a ton!
---
If you want to achieve the best possible textures, make perfect sauces, stews, nice cream, nut butters and so much more…
Grab your own new or refurbished Vitamix at the best deal Here 
---
Enough of the shameless plugs…
To the recipe!
Traditional Greek Lemon Rice Soup, Raw and Vegan
Ingredients
2/3 head cauliflower – 1.5 lb
5 yellow tomatoes – 1.5 lb
1/2 yellow pepper – .125 lb
3 stalk of celery – . 4 lb
1 carrot – .25 lb
2 green onions – .1 lb
1.5 lemons – .35 lb
1/8 cup dried parsley
1/4 cup pumpkin seeds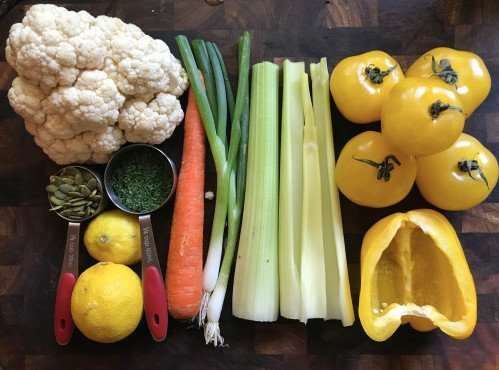 Grate the cauliflower and carrot into a rice like texture, its fine if there are some larger chunks of ,,dcauliflower. Place all of the carrot and 90% of the shredded cauliflower in a bowl, mix well and set the remaining 10% of cauliflower off to the side.
Rough chop the tomatoes, pepper, celery and the bottom bulbs of the green onion, place all in the blender.
Juice the lemon and place 1/2 of the juice in the blender, add the pumpkin seeds and blend all ingredients until smooth. Give it a taste and add remaining lemon to desired flavour.
Rough chop the remaining green onion and add to the blender along with the parsley, pulse blend till  all of the green onion and parsley is mixed well but not pureed.
Pour the broth over the riced cauliflower and carrot, mix well, top with the remaining cauliflower and a light dusting of dried or fresh parsley.
Serve n enjoy! 🙂
---
If you like the looks of this recipe grab my two low fat raw gourmet recipe ebooks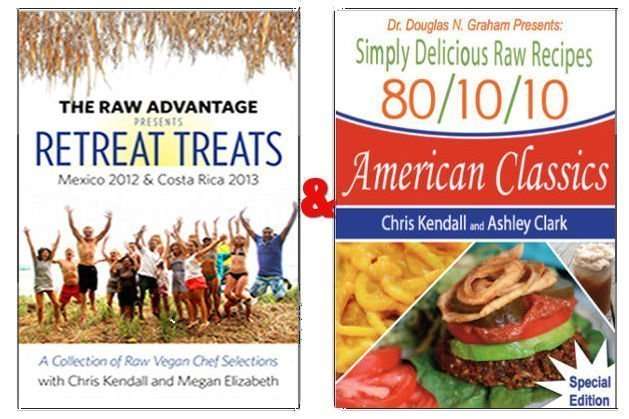 TRA Retreat Treats or Simply Delicious American Classics 🙂
Hope you enjoy them all and have a super sweet day filled
with much
As Always
Wishing You Much
PeaceLovenSeasonalFruit ck