Low Fat Raw Vegan "Cheezy Noodles" on Chef AJ Live!
Are you Ready for some Low Fat Raw Vegan "Cheezy Noodles"?!
This is one of my favorite simple low fat hygienic vegan cheesy noodle recipes ever, it's super simple to make and so satiating!
I HOPE you LOVE Them as much as I do!
PS Sorry to Say the Ultimate Raw Vegan Bundle is Over, be sure to Subscribe Here
to be notified first when new bundles, giveaways, special events, and deals are offered!
---
TIME CODE:
00:37 Guest introduction, and raw vegan e-book bundle promotion
04:57 Raw pizza and raw restaurant discussion on fat content
08:37 Recipe discussion/Q & A, Cheezy Noodles recipe demo and raw vegan e-book course discussion
30:07 e-Book course, raw food vegan controversies discussion and Chef AJ Q & A
36:47 Viewer and Chef AJ Q & A including raw vs cooked mushrooms
58:25 Final thoughts and preview for next raw vegan chef appearance
Original Video from Chef AJ Live, SO blessed to be featured on her show again,
check her out and subscribe for LIVE Shows Daily 11:00 AM P.S.T.
---
To the Low Fat Raw Vegan Cheezy Noodle Recipe!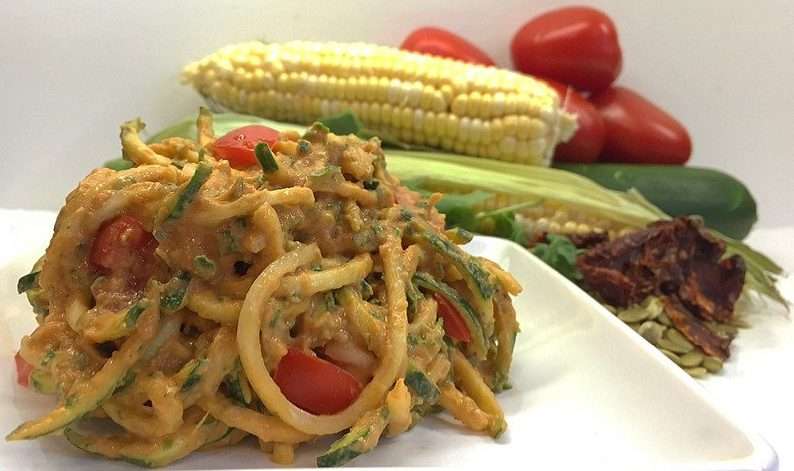 Cheezy Noodles
2 Zucchini (1 lb / 460 g)
3 Cobs Corn / 3 cups Kernels (.75 lb / 345 g)
2 Roma Tomatoes (.5 lb / 230 g)
Arugula (.15 lb / 70 g)
Sun Dried Tomatoes (1/4 cup / 15 g)
Pumpkin Seeds (1/4 cup / 60 g)
Make noodles/zoodles out of zucchini with your favorite noodle device, place any extra zucchini bits in the blender and the noodles in a bowl. Dice 1/4 of the tomatoes and add to the bowl, place the rest in the blender. Remove the kernels from the corn and add to the blender along with the sun-dried tomatoes and pumpkin seeds. Blend until smooth as can be, add the arugula and pulse blend until well mixed but not pureed in. Pour over the noodles and mix well, then serve immediately. (800 Cal.)
---
The Best Raw Vegan Scalloped Potatoes 
---
I hope you really enjoy the Low Fat Raw Vegan "Cheezy Noodles" recipe and the fun conversation and questions answered in the food demo/interview with Chef AJ!
Wishing you Much
PeaceLovenSeasonalFruit ck
As Always
Wishing You Much
PeaceLovenSeasonalFruit ck