Refurbished Excalibur Dehydrator
The Absolute Best Food Dehydrator at the Best Price!
Accomplish amazing feats in your raw kitchen, changing textures, warming dishes, making the Best Raw Pizzas, Pancakes, Cinnamon Buns, Shepherd's Pie, Dried fruits, and more, endless possibilities!
Check out the available Refurbished Excalibur Dehydrators currently available at the BEST price, Click below 🙂

The Best Dehydrator, at the Best Price, grab a Refurbished Excalibur Dehydrator!!
A Dehydrator can be tons of fun bringing many new textures, recipe options, and tastes to your Raw Flow! While I don't recommend going overboard, a Dehydrator is a definite asset to the Raw food Kitchen. I love to Warm up and change the texture of some dishes, make Fruit Wraps, Savoury Wraps, The Best Raw Vegan Pizza, Raw French Fries, Crackers, Sushi Wraps, Crepes, Cones, Simple dried Fruits, Tomatoes, Raw Pancakes, Raw Cinnamon Buns and so much more!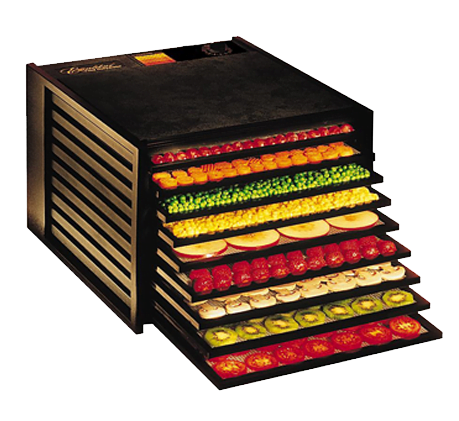 The finest Culinary Schools, Raw Restaurants, and Retreat Centres, such as "The Farm of Life" usually have more than a few Excalibur Dehydrators Behind the scenes helping to bring slightly more Gourmet recipes together. 
The Excalibur Dehydrator is simply the best there is, the ONLY machine with the unique Parallex Horizontal Airflow Drying System.
I am proud to be an Affiliate with Excalibur and am excited to offer these refurbished Excalibur dehydrator models to you!