Introducing The Rainbow Island Cleanse!
Looking for a cleanse to do in the new year?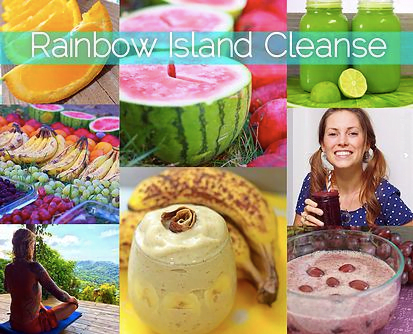 Get the Rainbow Island Cleanse Today!
Naturally Ashley and I have turned our wildly successful group cleanse into a full program ebook! Mono-fruit cleanses are our favorite way to detox. You get to eat all the fruit you care for, while giving your digestive system a break. Mono-fruit cleanses are very poplar with the raw vegan crowd. The Rainbow Island Cleanse follows the chakras with a different color fruit for each day. This adds more variety than a typical mono-cleanse with only one fruit. We incorporate chakra-specific yoga exercise videos and affirmations to cleanse and spend time each day balancing your chakras, making it a total mind, body, and spirit experience. Plus there's going to be a mono-meal recipe guide and a private Facebook page to provide further support with your cleanse. We are so excited to be offering this amazing program. It's the perfect way to ring in the new year and set some healthy intentions for yourself.
You deserve it!
The Rainbow Island Cleanse is extremely beneficial for the digestive system, giving it a well-deserved break from the complex meals we normally eat, especially after the holidays. It's also great for busy people on the go. Fruit is fast, cheap and easy… It truly is the original fast food. How quickly can you cut and eat a watermelon or peel 10 bananas… dinner is served! You'll be surprised at how easy it is and how satisfied you'll be. It saves you time in the kitchen and you gain energy, awareness, clarity and more to do the things you truly love.
Did we mention you get to eat all the fruit you desire?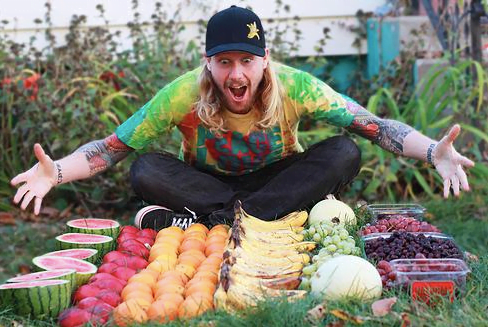 It's your New Years Detox Plan to a balanced and vibrant
NEW YOU!
Some benefits that can be experienced:
• lose weight • feel lighter • more energy • clearer mind • physical and emotional detox • more appreciation for simpler foods and how they digest • sharper tastebuds – simple foods will taste better • improved digestion • balanced chakras • learning more about your chakras and how food affects them • higher connection to self and purpose, and strengthened intuition • learn to listen to your body (true hunger, thirst, satiation, etc) • shift in perspective of your relationship with food • eat all that you desire, no calorie counting or restriction • let go of that which does not serve you • experience more happiness, acceptance and inner peace
---
A few Testimonials
"Thank you for this wonderful week, really good for resetting my compass taking me out of the habits and inertia I was stuck in even as a raw vegan! Lots of love to both." -Nicole
"Rainbow Island was a great success!!! This came at a perfect time for me. I did this cleanse to work on my temptations and self restraint and I've always wanted to try banana island but didn't think I could do it. Being able to go through the colors of the rainbow made it so much easier for me! I truly loved that we incorporated the chakras with this cleanse as well. This also helped ease me trough harder cravings and temptations, and helped me work on my emotions. I lost 11lbs this week and I feel amazing. So clear headed and my heart is so open!!!! Everyone around me has noticed a 'difference' and I was able to share my mono fruit experience with so many people! I am truly grateful for you, Ashley and Chris!!! You guys RAWK! I hope that I can come to a retreat of yours someday!!! Thank you again from the whole of my fruity heart!" – Mary
---
Click below for more testimonials and info on the FAQ's
You may have heard of mono-fruit islands like Banana Island or Watermelon Island and thought, 'I couldn't eat ONLY watermelon for 7 days.' The Rainbow Island Cleanse is a mono-fruit cleanse that allows you to choose a different fruit everyday as we go through all the colors of the rainbow. As we progress through the colors of the rainbow with fruit to cleanse our body, we move through the chakras as well, providing you with chakra balancing yoga exercises and affirmations each day.
The mind, body and spirit are all connected, and when we detox, it is happening on all levels. Most cleanses focus on the food/body, while the Rainbow Island Cleanse brings focus and attention to all areas with affirmations and yoga movements to enhance your cleansing experience, mind, body and chakras.
We are now turning this hugely successful cleanse into a full program/eBook for you all, encompassing everything you need to know for a successful mono-fruit cleanse including "What is a mono-island cleanse?", "How it works," "How to prepare and shop," "What are chakras?" and even a chakra quiz, plus a mono-meal recipe guide…you'd be surprised what recipes we can come up with using on one ingredient!
This program will be available to you soon and is set to launch before the new year. Perfect timing for a fresh new start after the holidays. Let's follow through on those new years intentions together.
Get the Ebook Now to Kick Start 2016!
with Lots of Love and Fresh Squeezed Hugs,
Chris and Ashley xo
As Always
Wishing You Much
PeaceLovenSeasonalFruit ck