"Bali Spirulina" Behind the Scenes Farm Tour!
I really love spirulina from time to time and have to say that the crunchies I had from Bali Spirulina Farm are the best I've had by far. Feeling blessed by the opportunity to check out the farm and talk to Loik all about spirulina and his farm!
Check it out and try some yourself at Bali Spirulina
Ps I have no affiliate links simply love the spirulina and energy the Loik puts into growing it!
I was first introduced to spirulina about 16 years ago in Vancouver BC as a powerful nutrient rich "superfood". At that time I started mixing it with my banana smoothies and really enjoyed it. Years later when I went 100% raw I stopped using all powdered products and questioned the idea of "super foods" all together for various reasons. As time went on I started experimenting with certain powders and products and have really come to find certain ones, such as Barley Grass Juice Powder (grab my fave brand here), Spirulina and Chlorella to be delicious and a helpful part of my diet. Having tried many different types of spirulina I have found Bali Spirulina to be the best tasting by far.
I feel blessed to share a farm tour with you and as mentioned have no affiliate links, simply really love their product, vision and energy.
Spirulina is a storehouse of nutrients, so much so that it is included in Nasa's space program to help bring vital nutrition to astronauts. One area of debate around spirulina is Vitamin b12, some claim it to be bioavailable while most tests show that it is at least partially in a analogue, or unusable form. A side fact and area of interest of mine is the supposition that if the water spirulina is grown in has added cobalt, then the spirulina itself can contain bio available b12. If anyone has direct experience or information on this please do share.
For a ton more information as well as the option to try out some Bali Spirulina, simple click the link and enjoy!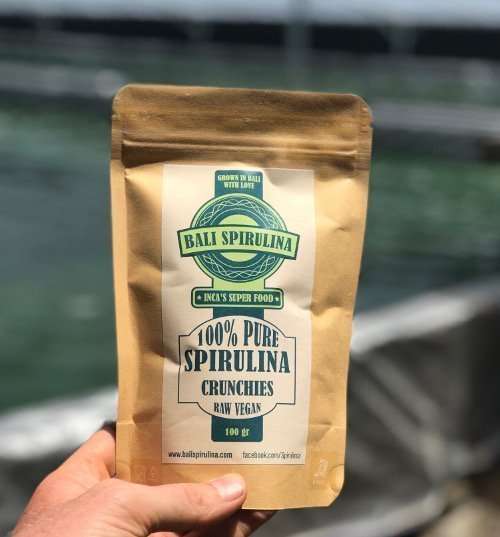 PPS – I love the spicy crunchies, my fave for sure, a mix of the spirulina with garam masala and hot pepper!
Special thanks to Loik for opening his farm to us for a fun tour!
As Always
Wishing You Much
PeaceLovenSeasonalFruit ck