Fat to Fit, Extreme Weight Loss -260 lb with Jared Monesmith
Check out this extreme weight loss story with a interview with my new friend Jared Monesmith. He is a huge inspiration, in this interview he shares many tips and perspectives on how he lost 260 pounds of weight on a raw vegan diet of abundance!
In this video you will learn how Jared Lost 240 pounds in just over 10 months without starving himself, without restriction, in fact on a diet abundant in some of his favorite foods! Recognising weight loss isn't just about diet learn the other aspects Jared focused on to not only loose the weight but keep the weight off 4 years later!
This is a inspiring story of how Jared went from Fat to Fit in under a years time!
Focusing on raw vegan foods Jared found he could literally eat all he enjoyed while watching the fat melt away. A true inspiring story of extreme weight loss Jared now wants to share the lifestyle and dietary information that saved his life.
I really hope you guys love this interview with Jared, if you found his story of extreme weight loss inspirational or helpful be sure to share it with a friend! 🙂
Connect with Jared on Facebook
Connect with Jared on his Awesome YouTube channel
Here is some unedited info Jared felt compelled to share on FB after the huge interest raised from the above interview!
Thanks for allowing me to share this here Jared 🙂
"So I've had a lot of people friending and messaging me over these past few days since my interview with Chris Kendall went viral. And I appreciate all the positive feedback that I've gotten from everyone, thank you!
One question that I've been getting, and its one that I've gotten over and over again is how did I lose 260 lbs so quickly?
How did I do it?
Well, here is my recipe for success, where I came from, and you're also going to get a real good glimpse into who I am and where my life is headed…
All of my health success came down to a lot of hard work, determination, dedication, and drive!
Before I discovered this lifestyle I was an overweight, angry, miserable son of a bitch.
I lived the fast life…I drank heavily almost every day for a decade, I smoked a pack a day, I was a fast food junkie, and I had zero self esteem and self respect. I virtually trashed and abused my body for 30 years. At 465 lbs I could barely roll my ass out of bed and walk to the bathroom. I'd wake up in the morning with terrible chest pains thanking god I made it through the night and didn't die…sad!
I grew up getting mercilessly bullied and picked on to the point where at just 10 years old I already hated life and wanted it to end. I was 260 lbs when I was 12, I was 340 when I graduated high school, and I was 400+ for 10 years. I ignored social events, family gatherings, dating, I didn't even like being in public. I suffered for YEARS from many different health disorders related to my obesity.
I got to a point on April 15, 2012 where enough was enough!
I couldn't take it anymore…life became so miserable, so saddening, where I came to the conclusion that I had 2 choices, continue on this path of self destruction, or fucking do something about it!
And so my journey began 🙂
I started to fuel my body with the right foods by adopting a high carb vegan diet. I stopped smoking, I stopped the drinking, and I started to treat my body and mind the way it should have been treated all along 🙂 I took all that anger that I had been harnessing and holding onto for so many years and used it to my advantage. I was determined and driven to turn it into something. I took all that frustration and negativity that I had been holding onto, all the memories of being put down and picked on, all the bullshit I went through as an adult and used it as fuel for my workouts.
I adopted the mindset that NOTHING was going to get in the way of my goals…NOTHING!
I was going to give it 110% and never look back, and that's what I did.
I made MANY sacrifices to reach my goals. I temporarily said fuck you to my social life, I stopped going out, I stopped making excuses and I became one dimensionally driven. I started with just 20 minute walks around the neighborhood because that's all I could handle. And over time through a combination of weight loss and sticking with my workout regimen I became more and more conditioned.
3 and a half years later I'm now 205 lbs and free of all health ailments. I can now run 10 miles without stopping. I can run a 6:20 mile. I just bicycled 1000 miles across 3 states in the month of June. I out-train, out-lift, and out-perform guys 10 years younger than me in the gym. All those people that use to put me down, call me names, and make me feel worthless my entire life…I'm now in better shape than 99% of them! I don't say that to be rude or conceited, but its the truth.
I turned my negative into a positive.
I took my life's biggest challenge and I made something out of it 🙂
My life is an open book and I have no problems and make no apologies for talking about my past. I tell you all of this, everything stated above as honest as I can be, because I want my life story to inspire others.
Those that are struggling with their weight, I want them to know that I get it, and I understand the battle.
That my heart and soul feel for you in a way that you couldn't imagine.
I know what its like.
I know what it feels like to have an eating disorder, how it feels to be isolated, and how it feels to be so frustrated that you just want to give up.
Changing your body is never easy, but you have the power within you to do it!
Anything is possible.
If you would have told me 3 1/2 years ago that I would be where I'm at today…as fit as I am, as energetic, happy, optimistic and passionate about life as I am today…I would have never believed you 🙂
I mean, just 3 months ago I quit my job, sold my car, started traveling the country, and I'm gonna be perusing a career in personal training here in the very near future.
Like what!?!?
Taking my passion of health and fitness and helping others with their own weight loss endeavors. Its amazing where life takes us. I am in no way perfect, I'm rough around the edges, I have my struggles and sometimes I can be my own worst enemy. But I'm a go-getter, I keep a positive mindset, and I strive every day to do my best, and every day I feel blessed to be here. This is my life "
"Sticking with HCRV was never that difficult for me in the beginning.
I was so frustrated and sick and tired of living the way that I had been, that I was not about to give up. I decided that there was no turning back. I was done with being that person and was ready to embrace a new chapter into my life.
Did I have cravings?
Yes! Like you wouldn't believe!
I had cravings so bad that i would wake up in the middle of the night, go downstairs and stare at the other food that was in my fridge.
It was very intense and overwhelming at times. But here's the thing, it got better!
It got easier 🙂
I took on the philosophy that every good meal was one meal closer to my goal, and I was not about to screw it up.
Over what? Some potato chips and cookies…not worth it!
These days and for the past 3 years or so I'm free of unhealthy cravings.
Now I crave healthy high carb/low fat food"
We are all so blessed by your courage your journey and especially by you sharing it with us Jared!!
To anyone out there looking to change their life, from Extreme Weight loss, going from Fat to Fit or simply taking a few pounds off and looking to get healthier all around, your a Inspiration!
Connect with Jared on Facebook
Connect with Jared on his Awesome YouTube channel
PS I want to Invite you to the…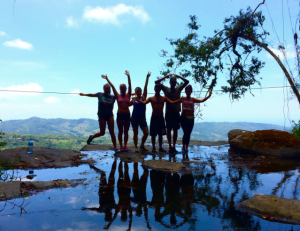 The Raw Advantage
Raw Food N Yoga
Surf Adventure Retreat
at The Farm of Life
March 12 – 19th 2016
Space is limited!

We really hope to see you out here in Costa Rica! There is a max occupancy of 21 people, so be sure to secure your spot and reserve your place now!!
_____________________________________________________________________
Click here to reserve your spot today!
_____________________________________________________________________
 Paradise awaits you….

Avatar Rock – A hidden gem in Costa Rica, on private land beside the Farm of Life, that we have access to on this retreat!
For more info email me at info@therawadvantage.com
Much
As Always
Wishing You Much
PeaceLovenSeasonalFruit ck