A long time in the coming we have a epic interview 
with my brother from another mother Dr Sam PT!
In this interview we talk about being a "Heath Raiser" as well as what it means to be a Victorious Vegan…
W
hic
h also happens to be the name of his book in the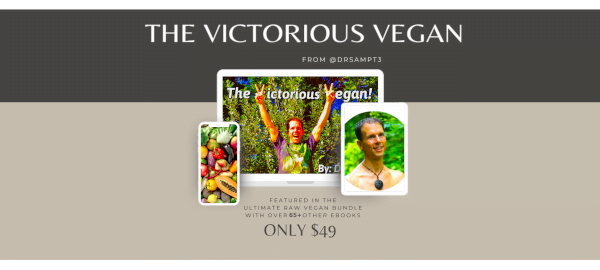 In this open hearted video with Dr Sam we get into key strategies to thrive as a well balanced vegan for our health, the animals and the world at large. Diving into topics such as spirituality, perspective, being a conscious creator, the power of attention and so much more!
The ebook that shows you how to have BETTER Health, MORE Vitality, & DEEPER Love in your Life!
• Learn the significance of being a 'Victorious Vegan' — and how it can transform your life! 
• Acquire the 3 'very important steps' needed for success on the 'Victorious Vegan' path!
• Learn 'Pro Tips', as well as where to get 'ongoing support', to help you become victorious!
If you have ever felt like you are failing to thrive even though you really try your best to live a healthful life, or if you aren't feeling your best and want to get the key tips, hard learned knowledge and perspectives of those who have been walking this path for a while…
The you will love this interview and the Victorious Vegan Book!
I really hope you enjoy the interview and decide to dive into the

Check out all of the amazing ebooks and courses, over 65 of them worth $1600+ for over 97% off
which = $49 
for a very limited time!!
What is the Ultimate Raw Vegan Bundle?
Lissa from Raw Food Romance and sounded the horn to bring together a long list of raw vegan friends, influencers, authors chefs, educators and creators from within the raw vegan movement to offer an enormous bundle of 65+ different books, courses and other products and until the 11th it is available for the price of 1 – 3 books!
– Happy Raw Reny has her "Rawvolutionary Banana" book
– Drs. Rick & Karin Dina have their "Our Top 30 for 30" book
– Chef Ocean has his "Traditional Breakfasts" book
– Melissa Maris has her brand new book "The Burger Book"
– Matt Bennett has his "The Art of Salad Mastery" book 
– Nate Maris has added his new book "Dood Food"
– Karen Ranzi has added her "Hormone Boost Plan"
– Ted Carr has added his book "The Fruitarian Meal Plan"
– Arnold Kaufman has added 3 amazing books
– Professor Rozalind Graham has added a brand new book called "Creating Dietary Peace"
– Louise Koch has added her "Raw Transformations" book
And SO Much more, honestly the list just goes on and on and I invite you to simply click this link and check it all out!

PeaceLovenSeasonalFruit ck