Hot Tips for Eating Out Raw, Plus a Recipe.. In the Restaurant!
Ever had a tough time going to a Restaurant as a raw vegan?
So, I'm sure this has been an issue for most all of you at one point or another… You're out with friends and/or family, and they don't follow a raw food diet.  Does that mean you can't go out and enjoy a nice meal with them?  
HECK NO!!!!
I just had a sweet lunch out with my family at Applebee's!  
Sometimes in this situation I'll order a salad or something like that but I just wasn't feeling a salad for lunch, so instead I asked the server for a big bowl and a knife.  Check it out, I put together a little bonus frickin' rawsome recipe – right in the restaurant!!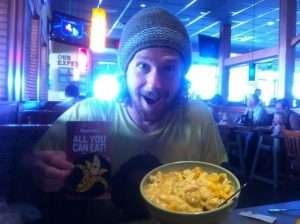 I've posted before on eating at reasturants when you're on the raw food diet.  You can check out that post HERE.
Really, it's all about being confident and comfortable with who you are.  Don't be afraid to ask for what you need, let people know your situation and more than likely they'll be happy to help you out.  (That's so so so true, not just in this situation, but in life in general!!)
Here's the recipe I whipped up in the restaurant!!
Banana Pudding
11 Ripe Bananas
2 Mangoes
Dates
Peel the bananas into the bag and smash them all up.  If you don't have a bag, no worries, just mash them up in the bowl with the fork (it's just fast and easier to do it in the bag)
Cube up the mango and scoop it into the bowl.  Add some dates – you can chop or tear them up.
Then just tear a hole in the corner of the bag and squeeze the bananas into the bowl.  Mix it all up and yummy yumm!!
You can get lots more recipes in my 101 Frickin' Rawsome Recipes book which is available in paperback or by donation as an ebook!!
ck
As Always
Wishing You Much
PeaceLovenSeasonalFruit ck