Epic Smoothie Recipes, The Don Bennett Special!
If you're looking for epic smoothie recipes you have come to the right place!
Stoked to share my friend and colleague Don Bennett's favorite smoothie, and one of mine too btw, "The Don Bennett Special!"
You can learn a ton more about Don and get some amazing tips, informational posts, videos, and guidance on raw food nutrition, healthy living, and critical thinking on his website at https://Health101.org

I must admit I am a smoothie lover.
They can really be a perfect one-pot meal, can be really handy when you are on the go, and are also super helpful to help you get in more calories, which can be difficult when you first start on a raw vegan lifestyle. In my time I have made, tried, and shared a ton of epic smoothie recipes but this is one of my all-time favorite lunch staples, I hope you love it too!
To the Don Bennett Special Smoothie Recipe!
8-16 Ripe bananas (2 – 4 lb / 920 – 1840 g)
1 tbsp Chia seeds
1 tbsp Hemp seeds
1-2 tbsp of Barley Grass Juice Powder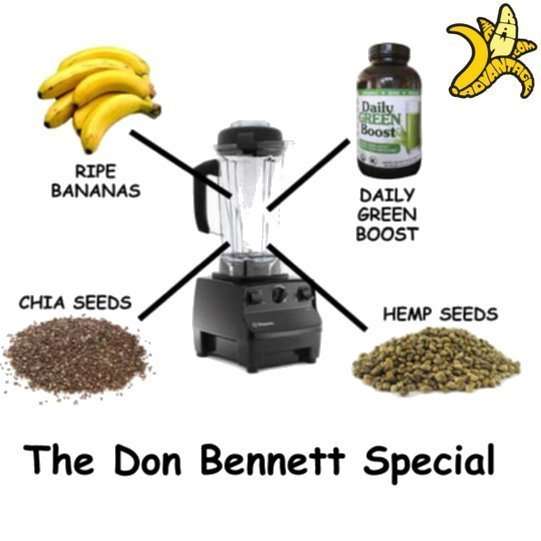 1. Blend the bananas first; don't over-blend. If bananas are truly ripe, you shouldn't need water (water will dilute the carbs-per-bite ratio).
2. Add the seeds in and blend them in your Vitamix, but don't over-blend. Equal amounts of hemp and chia seeds will give you a balanced Omega 3 to 6 ratio. And if you're eating goodly amounts of semi-fatty tropical fruits, you probably do not need the seeds. But for those who can't get their hands on durian, adding these seeds to a smoothie a few times a week can ensure you don't bump up against an EAA and/or EFA insufficiency as can happen when someone is not as active as they're meant to be.
3. And lastly, add 2 tablespoons of Barley Grass Juice Powder, pulse blend it in gently (the heat of friction at the point of contact with the blades can damage nutrients). You may have to work your way up to this amount if you've got some heavy-duty detoxing to do, otherwise, you may detox very quickly which is often not pleasant.
Enjoy the Don Bennett Special!
Don recommends to "Chew" each mouthful, allowing it to spend a goodly amount of time in your mouth before swallowing. The chewing motion tells the brain to analyze what's in your mouth so it can make the appropriate digestive juices (thus the beauty of the mono meal). And chewing also allows saliva to be mixed in, and this is needed for proper digestion too. And since the only time you can taste something is when it's in your mouth, don't be in a rush to vacuum down your smoothie. If people make fun of you for eating this way, offer them a banana and tell them to go fruit themselves or eat your meals in quiet solitude.
 This is something I never thought I would do, but after finding so much benefit from adding Barley Grass Juice Powder (BGJP) to my raw food lifestyle I am really excited to share this amazing product with you. Convenient, delicious, and jam-packed with trace minerals often lacking in commercial produce (which I often eat/can only find while traveling) I find BGJP invaluable.
Each 1 lb bag of barley grass juice powder comes from 25 lb of fresh juice, a tbsp (65 servings per bag) is the rough equivalent of eating 1.5 -2 lb of fresh organic greens! Super concentrated nutrition with amazing savings and ultra convenience! Most organic greens are between $1 – $3+ per lb, at this price, each tbsp serving is about .61 cents.
When I first added barley grass juice powder to my diet 3 years ago I couldn't get enough of it, I honestly felt like Scarface taking multiple tablespoons daily. After about a month of consistent use my desire to eat it in large quantities tapered off, I now believe this was due to the micro/trace mineral content. During my first 10 years raw I ate predominantly average grocery store conventional produce, not always enough quality greens. Being that produce today is often grown for yield and shelf life / with long transport, the nutrient content and especially trace mineral content (as this is reliant on top quality soil, not so prevalent today) can be lacking. I feel that in the first month, my body was rebalancing and refilling many trace mineral deficiencies that standard blood tests wouldn't detect (all my blood tests have been great), once I was topped off the strong desire to take all I could subside and now I eat it less often. 
When choosing a green juice powder it's important to get quality, that's why I chose and am offering Terrasoul for its superior taste and time-tested and reviewed quality. 
Learn More and grab a 1lb bag here!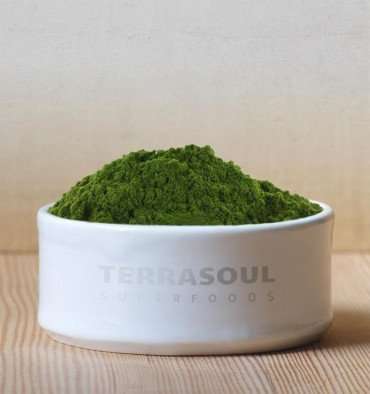 As a disclaimer, if you grow your own or get your greens from a conscious farmer that supplements his healthy soil with compost/rock dust etc, you can get the most amazing quality trace mineral-rich greens. Fresh is best when you can get high quality, but in lieu of that, adding barley grass juice powder can help make up for that lack being a nutritional adjunct/supplement, to help bring convenience and amazing smooth texture to your green smoothies and dishes.
Raw, 100% organic, vegan, non-gmo Barley Grass Juice Powder is one of the most potent sources of nutrients, often missing trace minerals, 20 amino acids, and Superoxide Dismutase (SOD), an extraordinary compound that works to fight inflammation and repair damaged cells.


Learn More and grab a 1lb bag here!
Terrasoul's raw organic Barley Grass Juice Powder is grown in the rich soils of an ancient seabed in Utah's west desert and harvested at its nutritional peak, pressed of its vital, nutrient-rich juice, then dried at low temperatures to ensure that it contains the highest possible levels of enzymes, chlorophyll and nutrients. Barley Grass Juice Powder is a concentrated form of barley grass, as it takes approximately twenty-five pounds of juice to make one pound of powder, and is 100% pure and always free of carriers and excipients. Barley Grass Juice Powder can help alkalize your body and provides a super-store of vitamins, minerals, and enzymes for everyday vitality and well-being. Simply add BGJP to a small amount of water to make a dip, to a full glass to enjoy an instant fresh juice, or add to your favorite smoothie for a green smoothie powerhouse!
ck
As Always
Wishing You Much
PeaceLovenSeasonalFruit ck