Beyond Meat Burger Drama at A&W?!
On July 9th All 925+ a&w restaurants in Canada started selling the Vegan beyond Meat Burger, but since then there has been some drama.
In this video I share why and my thoughts on the whole matter.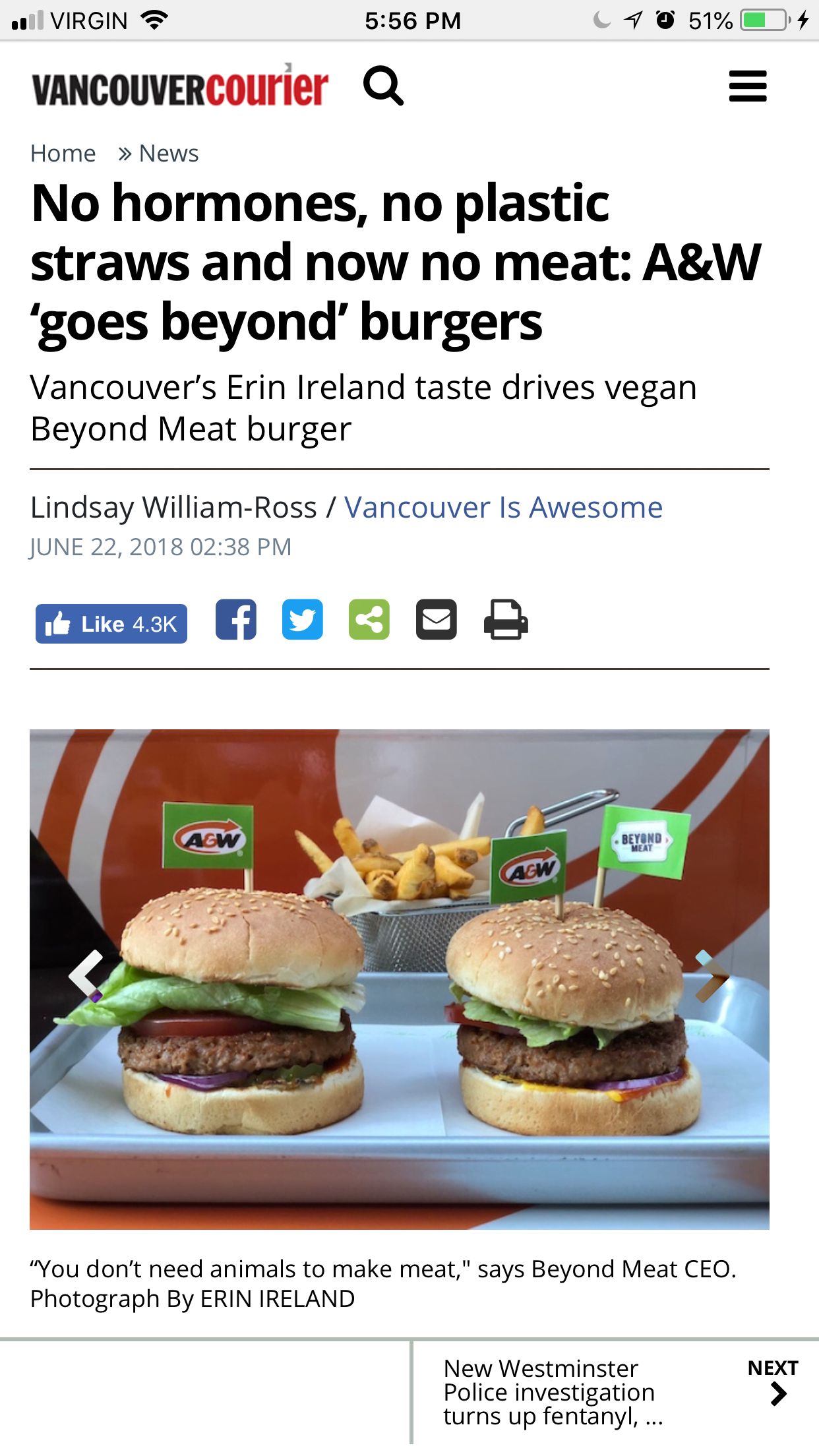 When I first heard about the beyond meat burger around 2 years ago I must say that I was intrigued enough to even say "I want to try this burger".
Fast forward to the present, when Beyond Meat announced it was coming into A&W restaurants across Canada I was surprised but also in other ways it really makes sense. Here in Canada A&W is at the forefront of the pack in regards to being the best quality / health / environmental conscious fast food burger chain around. They fully support and promote hormone free, GMO free and sugar free products and continually are aiming to improve their quality and reach. In sharp contrast everyone I know from the states says that the A&W locations out there are known widely as one of the more ghetto burger joints. Not surprisingly they are actually run fully differently in the states and not affiliated with the Canadian chain. Because of this there is the divide in adding this Vegan Burger Patty to the menu in locations outside of Canada, something many US vegans are sad about.
A&W has had a veggie burger for a long while but this Beyond Meat burger is fully plant based and something a lot of vegans have been looking forward to, here lies the Drama. When launched on July 9th the burger came automatically with mayo (you can ask them to hold) and sometimes uncle sauce (a mix of mayo and mustard). It was even clearly listed as not being 100% vegan as they grill the beyond meat burgers on the same grill as the other meat burgers. This raised alarms with a lot of vegans, understandably, and even led to newspaper / news site blog articles saying
"Everyone is Loving the Plant-Based Beyond Meat Burgers at A&W, Except Vegans"
while other articles said
"Vegetarians, Vegans and Beef-lovers rejoice, The Beyond Burger is Here!".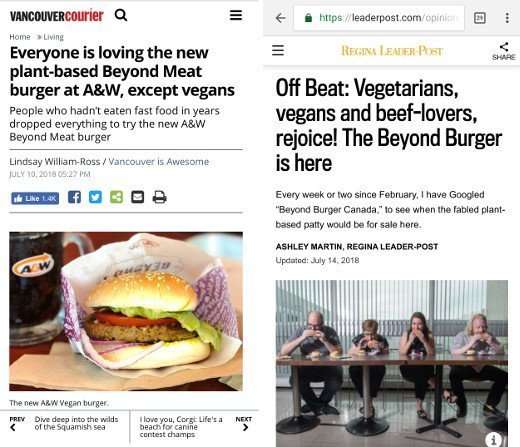 I 100% understand the drama that was stirred, as a vegan of 15 years and raw vegan of 14 it would bother me to have a vegan burger come out, finally, but then not be fully vegan. This all said a week after their debut, and lots of angry vegans, I called 4 locations in Saskatoon to get the scoop. Each time in a voice that said they have answered this many time they happily let me know that they have all been given expressed instructions to clean the grill every time they are cooking a Beyond Burger. Still they went on to say that they can not guarantee they are 100% vegan due to the possibility of human error / a rush etc. This may be enough for some vegans and not enough for others, which I fully respect.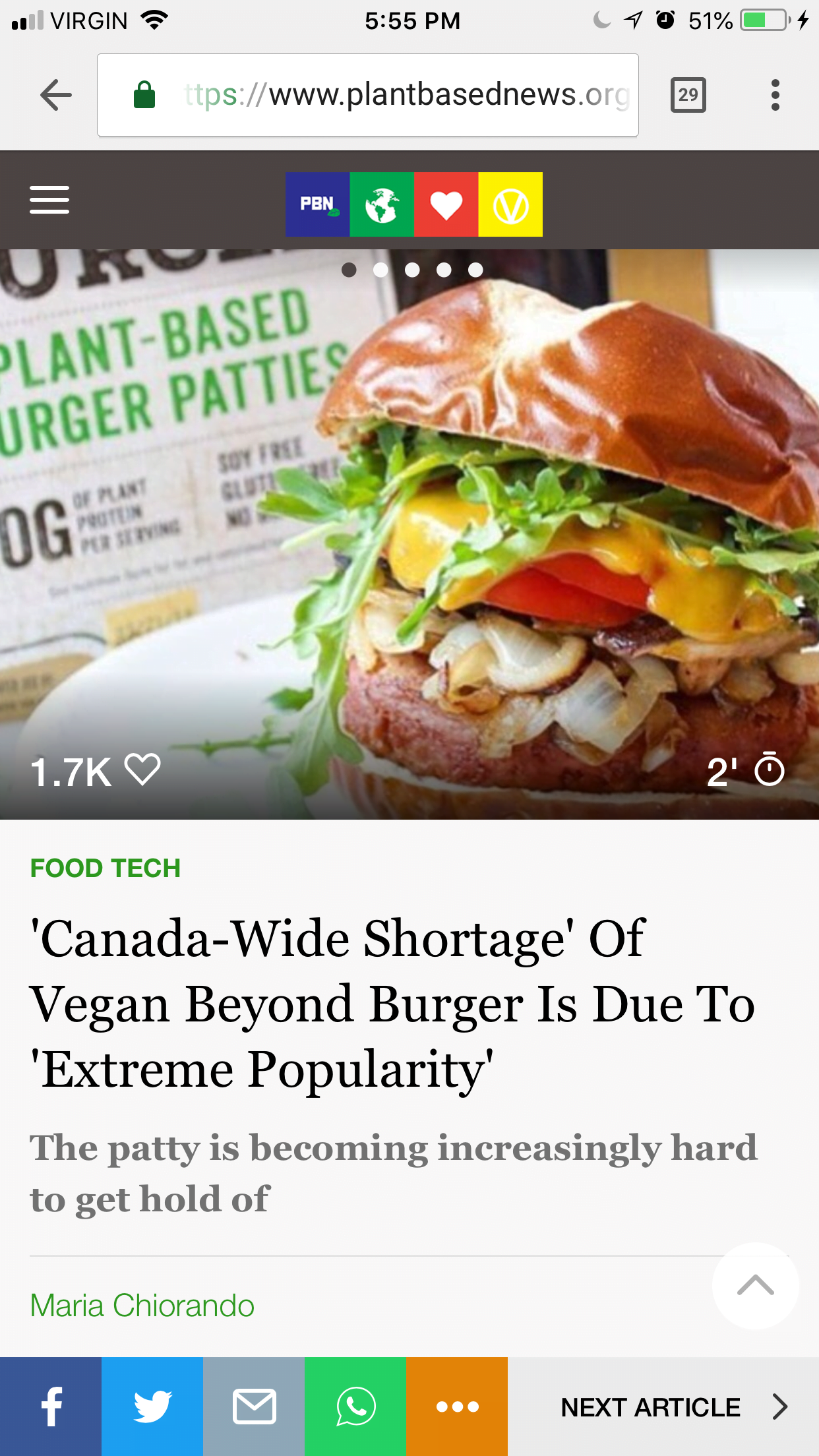 Despite the drama and considering all sides I must say that I am extremely happy that A&W has taken on the Beyond Burger. I doubt the original intent was to corner the vegan market, sure they want to appeal to vegans but also to vegetarians, flexitarians and those simply curious. In the end this will help to bring more people to try Beyond Meat who otherwise wouldn't and thus can help in spreading more compassion / environmental consciousness. Proof of this is in other articles that have went on to say that the
"Canada Wide Shortages of Vegan Beyond Burger is due to 'Extreme Popularity'"!
I really think that the amount of information coming out these days in studies and in documentaries like "Cowspiracy" and "Forks over Knives" etc that more and more people are ready for a change. Sure, not Everyone is going to go 100% vegan over night but ever time someone chooses a Beyond burger over a meat burger animals are saved, water consumption is reduced, land usage is reduced, carbon emissions are reduced etc. To me this is a huge win and as a aside I highly recommend you check out the documentary "Cowspiracy" if you haven't, below is some info from the amazing documentary.
I really think its important to consider that this is a learning curve and one that I am sure will only bring more options and people to see veganism as a viable way of living. I would love to see A&W come out with vegan mayo / uncle sauce / teen sauce, bring on a quality vegan cheese or two and even figure out a dedicated grill / oven for the Beyond Burger. This is a giant step toward healthier more humane options that will have a great impact on the mainstream and hopefully other restaurants.
As I said at the beginning of the article I have been interested to try the beyond burger since first hearing about it. Truthfully I have no interest in making them a regular part of my diet but am genuinely curious to see what it is like for myself as well as to know so I can more accurately recommend it. The only real reason I have had any hesitation is the potential discrimination / lack of understanding from other raw foodist, or rather the fear that I would be judged or rejected by my audience, which truthfully I think would be very minimal.
With introspection and honesty coming from fear or worry of others judgement is not a place I would want to live from, I would much rather honour myself and grow through my experiences. As a example, a year and a half ago I tried Daiya cheese in a few ways due to being genuinely curious. A friend from Sweden came to stay with me and expressed desire to try Canadian cuisine such as Poutine. Since vegan cheese sucked when I went raw 14 years ago and over the years I had heard amazing things about Daiya I decided I would make us both vegan poutine using the daiya. It was a fun and tasty experience, one I am happy that I honoured my desire to try but in the end it didn't change my views nor conviction to live breathe and share the raw vegan lifestyle. I haven't always come from this place and truthfully years ago I wouldn't have been able to emotionally try such food without serious cravings and potential consequences. Respect and knowledge of oneself in the moment, coming from a compassionate place that honours self and others in their journey has and always will be at the forefront of my beliefs and message.
In the end I often say I am 100% raw 99.9% of the time, some questionable spices, frozen pea's / corn, coconut milk slip in here and there which I feel great about. I could go on n on on this topic but perhaps thats a separate post or two or three.
What do you think, I am curious about your feelings and thoughts around the A&W Beyond Meat burger, the Drama as well as my feelings around it. If I do decide to try the burger would you like to see a video of that? How about more on my thoughts around all raw all the time, high raw and our own personal choices?! Let me know in the comments below <3
All of this may have you cravings a delicious Raw Vegan Burger Recipe?!
Before you go
Be sure to check out my Rawsome Recipes Playlist for many Free recipes!
---
And Also get your..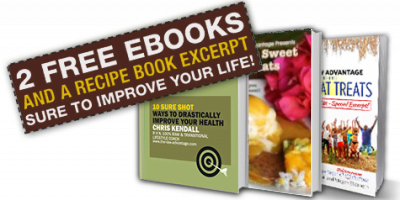 Get your 3 Free Ebooks "Super Sweet Treats", "10 Sure Shot Ways to Drastically Improve your Health" and "TRA Retreat Treats" Excerpt "Mediterranean Night" Here
---
Grab your new or Refurbished Excalibur Dehydrator or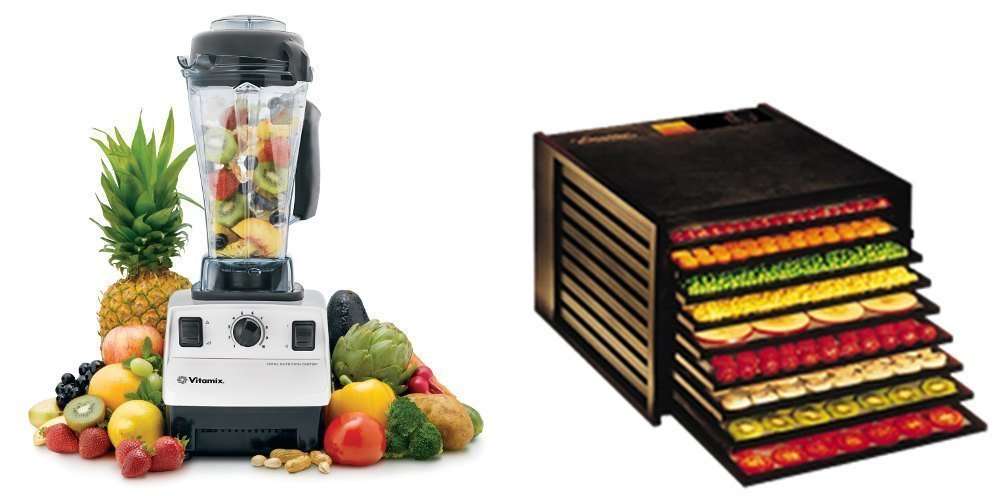 Vitamix Blender with FREE shipping here!
But most of all
As Always
Wishing You Much
PeaceLovenSeasonalFruit ck